Champagne or MCC?
The bubbly season
What exactly is MCC or Champagne?
It is sparkling wine obtained by a second fermentation in the bottle.
The sparkling wine, called Méthode Cap Classique (MCC), has its origins in South Africa, where it has been produced for over 50 years. The production of MCC is based on the method used for Champagne from France. Champagne can only come from the Champagne region in France. The term «Champagne» is legally protected and may only be used for sparkling wines produced according to the strict regulations and production methods of this region.
Similar to Champagne, Méthode Cap Classique wine undergoes a second fermentation in the bottle. In this process, a mixture of yeast and sugar is added to the base wine to trigger a new fermentation. This produces carbonic acid, which remains trapped in the closed container and forms the sparkling wine with its characteristic bubbles.
The production of MCC in South Africa began in 1968 when Frans Malan, owner of the Simonsig winery in Stellenbosch, bottled a cuvée of Pinot Noir and Chardonnay and aged it according to the traditional second fermentation method, inspired by classic Champagne.
The production of MCCs
In South Africa, there are strict regulations for the production of MCCs. These rules concern, among other things, the aging of the base wines, storage and bottle fermentation. Unlike Champagne, however, South African winemakers are not bound to specific grape varieties and can use a wide variety of grapes.
Méthode Cap Classique wines are often made using typical Champagne grape varieties such as Chardonnay and Pinot Noir. However, South African grape varieties such as Chenin Blanc are also used to create a unique character. The renowned Delaire Graff winery was the first to produce an MCC from the Chenin Blanc grape variety.
The approach has evolved and refined among South African winemakers to create a distinct and typical style. In the production of sparkling wine, a further stage of refinement is added to the «base wine». The quality of the base wine is partly responsible for the quality of the final product. No overripe grapes are used in order to maintain a solid acidity in the grapes.
In this way, South African winemakers have developed different styles of sparkling wines that can offer the fresh, fizzy note as well as more mature and complex flavors.
Sparkling wine often has similar aromas to white wine. The variety of aromas ranges from citrus fruits such as lemon, lime and grapefruit to pear and depends primarily on the grape variety used. Depending on the aging method and storage, more complex aromas can also appear. This is especially the case with sparkling wines with longer aging on lees (for MCC's, the minimum aging time on lees is between 12 and 18 months). The addition of wooden barrels during aging can also contribute to aromas of vanilla, caramel or toast.
Dry or Brut
When grapes are harvested for a brut sparkling wine, the harvest takes place before the regular harvest to ensure high acidity in the juice. After fermentation of the juice, further processing is carried out according to the desired final product. For a young and fresh looking sparkling wine, the base wine is quickly cleared of turbidity and further processed. For a more mature taste, the base wine is given time to age at rest.
A Brut is undoubtedly the noblest version of a sparkling wine. Its dry taste clearly sets it apart from most other sparkling wines. After all, a sparkling wine that is labeled «dry» is usually still sweeter than a dry wine.
In international «wine language», a sparkling wine with less than three grams of sugar per liter is called Brut Nature. Extra Brut still contains less than six grams of sugar per liter. A Brut has less than 12 grams of sugar per liter and thus represents the standard for dry sparkling wine.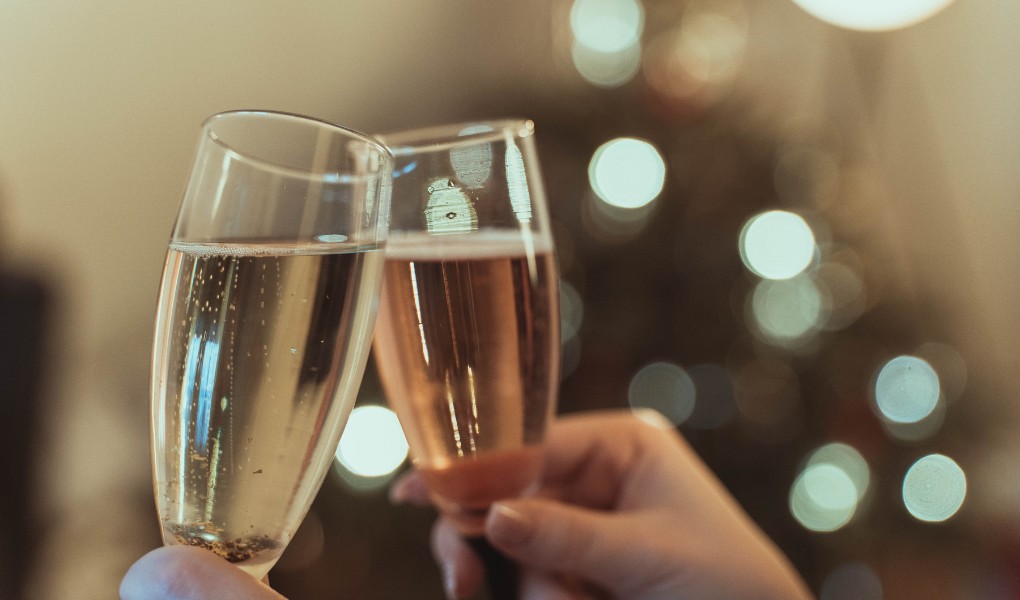 Blanc de blanc and Rosé sparkling wine
A Blanc de Blancs refers to Champagne or MCC made exclusively from the Chardonnay grape variety. Other white sparkling wines may contain red grape varieties such as Pinot Noir and Pinot Meunier. The white color is created because the grapes are pressed directly and not fermented along with the skins. The art of making Champagne lies in the assemblage, which is the blending of different grape varieties, vintages and reserve wines. These sparkling wines reflect the individual style of the house.
Rosé sparkling wines, especially rosé Champagne, are considered particularly noble and often exceed their white cousins in price, often by double or triple. Rosé sparkling wine production sometimes requires special processes and careful selection of grapes, which can lead to higher production costs. In addition, the high demand for high quality rosé sparkling wines is another factor contributing to their higher price. Thus, rosé sparkling wines and especially rosé champagne are not only outstanding in taste, but also a symbol of luxury and sophistication.
At KapWeine, of course, we love the white sparkling wines, as well as the rosé sparkling wines equally! Discover now the two new tasting sets.
All prices in CHF incl. VAT. Daily price as of 6.7.2023.
Offers valid while stocks last. Errors and price changes subject to change.