Which wine goes with my food?
The basic idea of food and wine pairing can be explained in metaphorical terms with interpersonal relationships. It is about creating an embrace between wine and food, in which some slight tension is allowed in order to keep it interesting.
In combination, wine and food should complement each other. Ideally, the flavours should even enrich each other. We know that certain flavours work particularly well together and are perceived as matching in taste, while others are known to cause negative effect.
Classic examples:

Sweetness in wine enhances the flavours of
the food and softens acidity and spiciness.
Tannins in wine reduce the sweetness of dishes.
Wine and food should be similarly intense.
Wine with a high alcohol content can make
the fat of the food easier to digest.
Roast flavours in food harmonise with sweetness
and moderate acidity in wine.
In our article, we will look at 5 very popular grape varieties and their characteristics a little closer.
Chenin Blanc
Chenin Blanc is known for its excellent quality and aromatically very characteristic wines, which are notable for their graceful fragrance with an abundance of fruity, floral and honeyed notes, as well as their lively fruit-acid combination.
Low yields as well as the climate and soil conditions play a fundamental role in the quality of the grapes and the distinctive varietal character of the Chenin Blanc wines. The versatility of Chenin Blanc is particularly noteworthy, as the grape variety can produce very different types of wine. Depending on the vineyard location and the winemaker's interpretation, the spectrum ranges from light, flowery white wines with high acidity to complex wines with great aromatic depth. Likewise, Chenin Blanc is capable of producing sparkling wines full of character or excellent, long-lasting sweet wines. Each of these wine styles goes well with different foods.
Sunny golden yellow with honey-coloured reflections, this wine flows into the glass. The nose reveals a fascinating scent of melon, peach, guava and wet stone. This finesse-rich aromatic potpourri continues on the palate and is balanced with the well-integrated wood notes. The balanced acidity is joined by a creamy texture and mineral freshness.
It goes excellently with seafood and grilled noble fish and due to its fruity sweetness combined with lively acidity, is also very well suited to spicy cuisine.

Sauvignon Blanc
Sauvignon Blanc, which means «wild white» in French, is one of the most widely grown white grape varieties. It originated in Bordeaux in France, but today Sauvignon Blanc is grown all over the world. There are many different styles and flavours, but it is often produced in a crisp, light style with high acidity. We usually distinguish between mineral or fruity, and aromatic/grassy/herbal or aged in wood.
A fine example from our assortment would be the Tokara Reserve Collection Sauvignon Blanc. The wine has an impressive straw-yellow colour with a bright green rim. On the nose, aromas of green apple and lime juice unfold in combination with gooseberries and a hint of blackcurrants. On the palate, the wine shows amazing freshness with zesty green apple flavours leading to a structured mid-palate and a long salty finish.
It is best served cold and as an aperitif with fresh oysters in summer. Also goes perfectly with freshly grilled yellowtail mackerel with salsa verde, salmon or caviar.

Chardonnay
Pairing Chardonnay with food is not very difficult. It is an excellent table wine that goes well with a variety of dishes, but it is important to note that there are different styles in which the wine is made from this grape variety.
Most wines are vinified dry. The aroma is less characteristic than that of a Riesling or Sauvignon Blanc, but Chardonnay can express the character of the soil and microclimate well. Rich, powerful wine with a pleasant acidity and fine bouquet.

In addition to ageing in stainless steel tanks, ageing in wood is also very common with this variety. However, only high-quality base wines are suitable for this. The aroma of melons, exotic fruits, ripe gooseberries or not entirely ripe apples is typical of Chardonnay. Higher qualities usually have high alcohol and extract, they are full-bodied and long-lasting. If they are matured in wood, wood aromas complement the primary fruit aromas. Many producers vinify it as sparkling wine. Depending on the ageing, Chardonnay is best drunk in its youth or after a few years of ageing.
The Warwick Estate White Lady Chardonnay serves as our inspiration. This wood-aged Chardonnay is a complex and expressive white wine that owes its richness of facets to the Chardonnay grapes. Fruity nuances of pears and stone fruit are accompanied by citrus aromas and a fine oak note. The rich and creamy palate makes the taste experience of the elegant Warwick White Lady perfect.
Fantastic wine with pork tenderloin with glazed apricot jam,creamy cannellini beans and herb salad or glazed gnocchi of butternut squash with a sage cream sauce and roasted pumpkin seeds.
Syrah
Syrah, also known as Shiraz, is one of the best-known red wine varieties in the world and is grown in many wine regions. In South Africa, Syrah is typically grown in the Stellenbosch region, where the warm climate and fertile soils provide ideal conditions for cultivation. South African Syrah is characterised by dark, spicy aromas of black fruits and pepper, often mixed with notes of chocolate and tobacco. These wines are typically rich and full-bodied, with a strong tannin profile and robust acidity that makes them an excellent choice for a variety of foods.
Our Eagel's Nest Shiraz has a bright ruby red colour. Perfume and floral aromas combine harmoniously with red cherry and spice on the nose. These aromas lead gracefully to a savoury, spicy palette, with flavours of star anise and clove. These aromas are complemented by pure, clean red fruit flavours. Soft, well-integrated tannins coat the palate and lead to a distinctive, fresh finish. A truly great wine from maturing vineyards that will age for up to 20 years after harvest.
Drink it with strong meat such as game, lamb or beef, goat, spicy sauces and vegetables.
Bordeaux-Blend
Bordeaux blend refers to a blend of wines made from the grape varieties typically grown in the Bordeaux region of France. These varieties include Cabernet Sauvignon, Merlot, Cabernet Franc, Petit Verdot and Malbec. Some winemakers already blend the grapes during pressing. This results in the blended grapes fermenting together in the fermentation tank. Subsequent blending, however, is used more frequently. Here, wines that have already fermented are blended together in order to mature together during storage.
These wines usually have a deep red colour and aromas of black fruits such as cassis and blackberries. They may also have aromas of vanilla, tobacco and leather from ageing in oak barrels. Overall, South African Bordeaux blends are usually powerful and tannic and are well suited to ageing.
A typical Bordeaux blend from South Africa is, for example, the Glen Carlou Grand Classique. A charming wine with an exquisite balance and refined elegance and an aroma of peppers, chocolate and sweet red berries on the nose. On the palate, lively undertones of plum rounded off by cedar notes. The velvety finish is full of dark fruits, chocolate and peppermint, framed by soft tannins.
This red wine is a fantastic accompaniment to braised or grilled dark meats such as cote de boeuf. Try it with braised oxtail with a Bordelais sauce, spiced pear and mashed celery.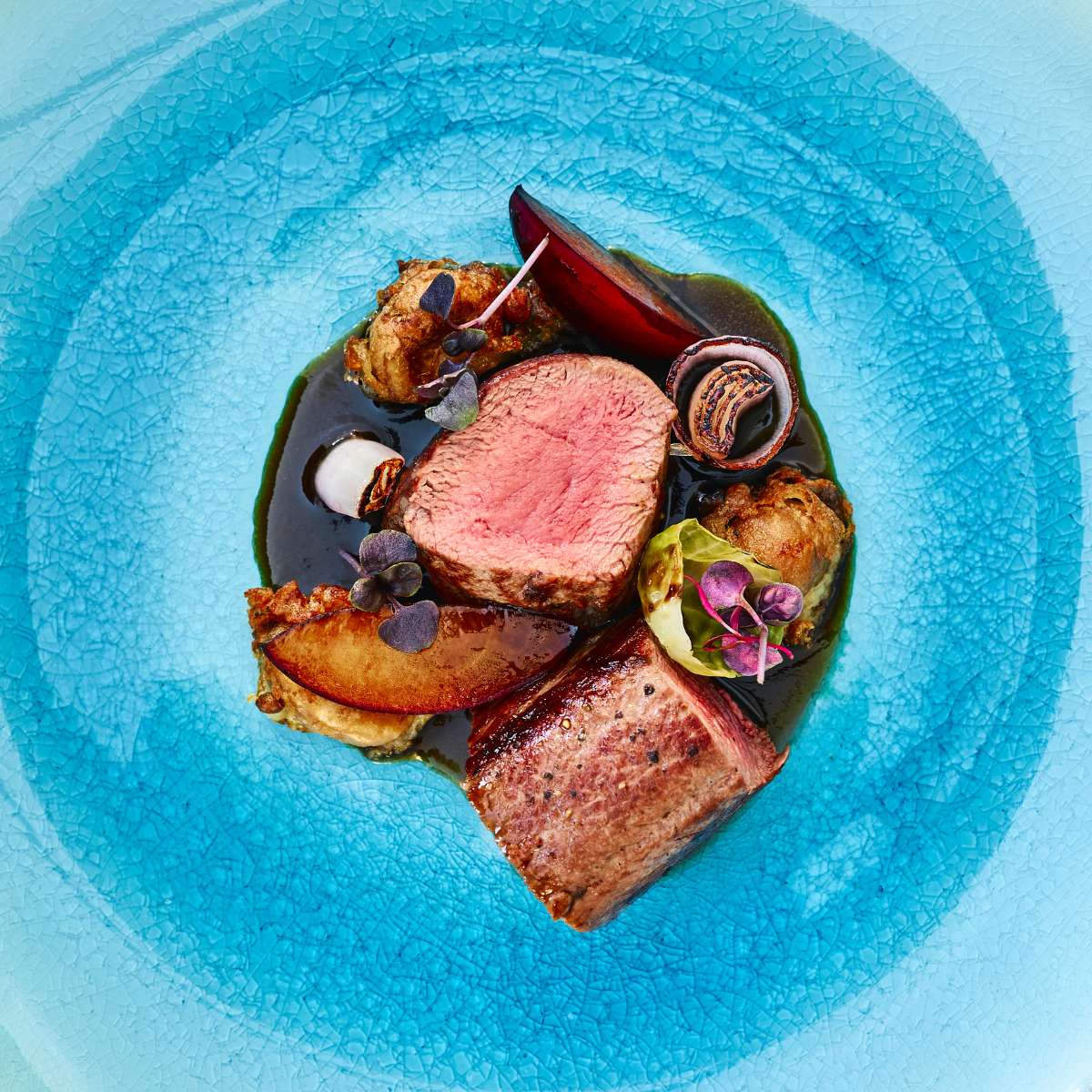 Pink roasted saddle of venison with red wine-cassis sauce
Pairing wine and food is an incredibly exciting topic and we could probably go on endlessly. You will see, once you dive into the world of wine and start exploring it, more and more possibilities open up.
Embark on a journey of discovery and order wines to try now. That way you'll have a delicious bottle ready for every cosy get-together.
All prices in CHF incl. VAT. Daily price as of 03.05.2023.
Offers valid while stocks last. Errors and price changes subject to change.