«Taste the Best»
& «Taste the Rest»
Friday 30th of September 16-20 h (only tasting)
Saturday 1st of October 10-18 h (Grill/Braai 12-18 h)
«TASTE THE BEST» – Lounge 2.OG
We open our wine treasures! Annually on the last Friday and Saturday in September.
Visit us at this year's Taste the Best event and taste from the best that South Africa has to offer. We open the crème de la crème for you and bring mature classics from our wine cellar to light. Experience first-hand what our wines from the years 2000 to 2020 have to offer. From rarities to top brands, there is a lot on offer. Also «New Wave Rebels» as well as «Old Guns» inspire the wine world with their liquid works of art. On these days, let Andy Zimmermann personally introduce you to the secrets of these special wines and take the opportunity to experience the desirable maturation process, the world-class terroir as well as the quality of South African wines.
Taste the Best takes place only once a year and is the ideal opportunity for every wine connoisseur to gain new experience and expand their wine cellar with an eye to the future.
We look forward to your visit in a cozy lounge atmosphere. Exclusive access, by appointment or via ticket sales at reception!
«TASTE THE REST» – Showroom EG
For all South African wine fans who would like to get to know our assortment better, there is a large selection of about 50 bestsellers, killer deals and must haves, which can be tasted free of charge.
With 20% cash & carry event discount*.
TICKETS – «TASTE THE BEST»
EXCLUSIVE & LIMITED
ENTRY CHF 30.-
Get access to an exclusive wine tasting.
Tickets are limited and will be allocated in the order in which they are received. You will receive a confirmation after successful ticket purchase. The ticket worth CHF 30.- can be credited on the day of the event, from a net order value of CHF 300.-.
30th of SEP / 1st of OCT - 20% Cash & Carry Event Discount*.
Get a 20% discount* in the showroom on both event days.
*Only valid on the 30th of SEP & 1st of OCT for pickup & payment in the showroom (cash & carry) on all wines not already discounted – not cumulative with other discounts.
NEW – Cape Fine Wine Index by KapWeine
Grill/Braai & Bar – The South African Style
Travel to us and treat yourself to a glass of wine and a piece of tender zebra, ostrich fillet or boerewors directly from our grill/braai. New also South African Premium Scampi and Premium Rock Lobster!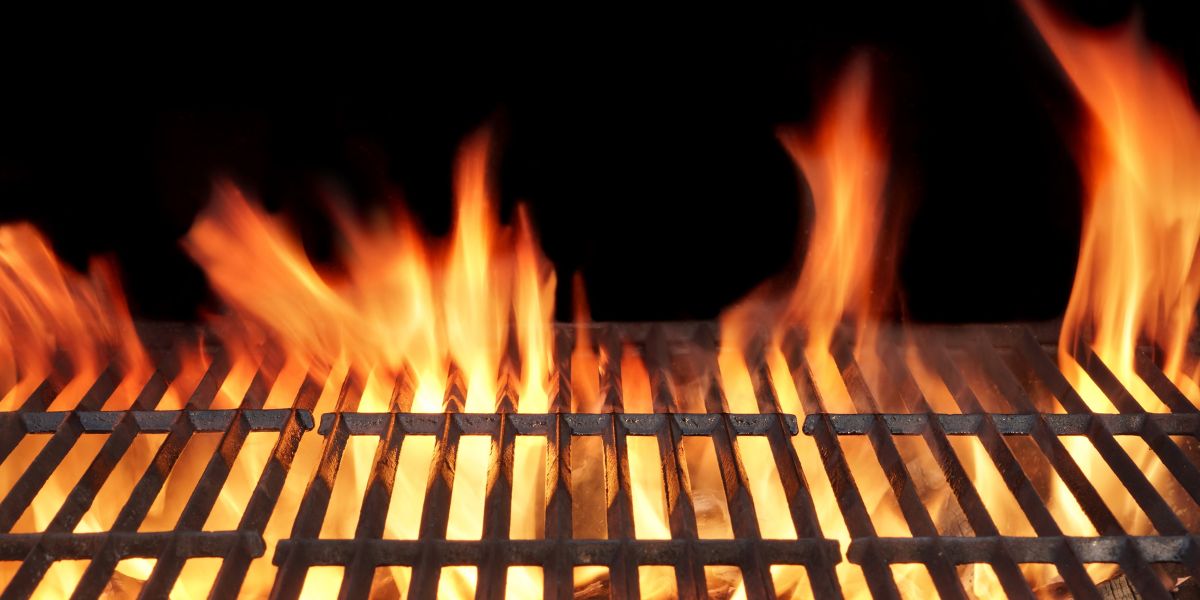 Sa 1st of OCT – Grill/Braai 12-18 h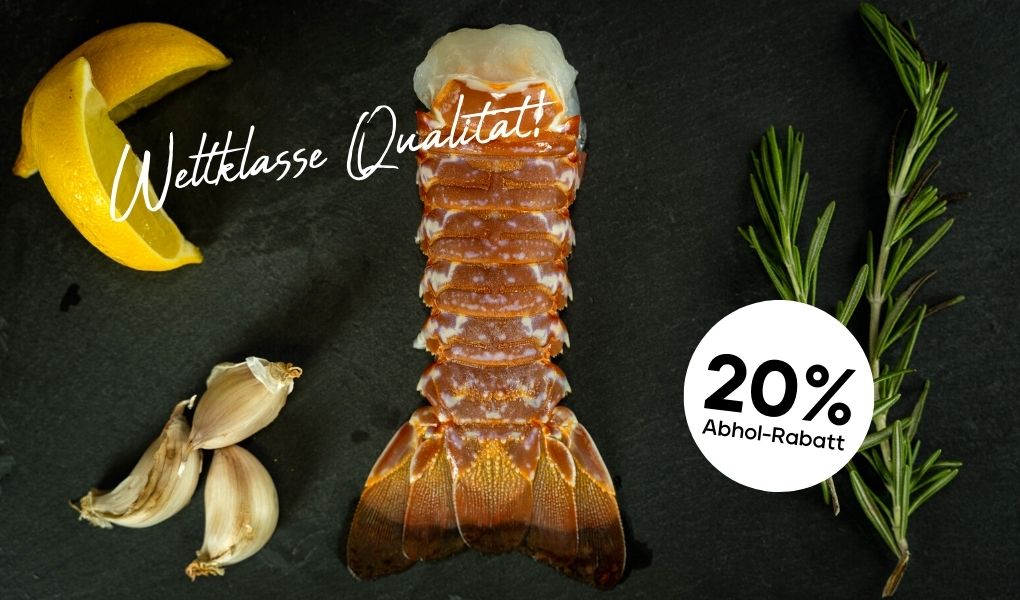 South African Scampi & Rock Lobster
Summer greetings from the Cape of Good Hope are now also available with Premium Scampis and Rock Lobster from our Grill/Braai.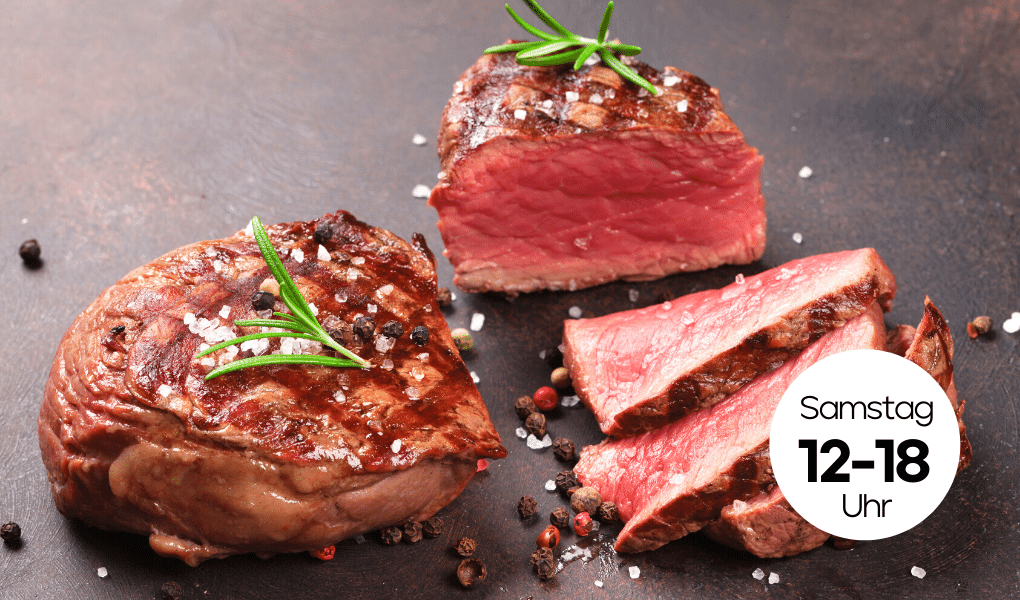 Best Quality – South Africa Grill/Braai
Everything that makes the grill/braai heart beat faster. Taste tender zebra, ostrich fillet or a South African boerewors together with wedgets, chickpea curry and sauces like chakala or chutney.
South African Exhibitors & Products
«TASTE THE BEST» – ENJOY IT LIKE A GENTLEMEN
MATURED- & TOP-WINES
Many of the best wines currently produced at the Cape in very small quantities. On the one hand because they often come from single vineyards with old bush vines and correspondingly small yields. And on the other hand, because they are « handmade masterpieces », the production of which in larger quantities would not be possible in comparable quality.
The recently gratifyingly high valuations in combination with the nternational growth on the demand on high end wines have led to shortages. Both in South Africa itself and for the export markets. Very limited volumes are available on more and more of top wines even for us as a longstanding partner and importer. These wines are sold on allocation only. The extreme drought of recent years has led to an additional shortage, the harvest volumes in the hot-dry Swartland, for example, were significantly below the longterm average. This situation and the increased demand for high-quality premium wines from South Africa prompted us some time ago to offer certain wines « en primeur », i.e., on subscription.
We at KapWeine have always been convinced that South Africa as a wineproducing country would one day make the leap to the absolute top of the worlds fine wine market.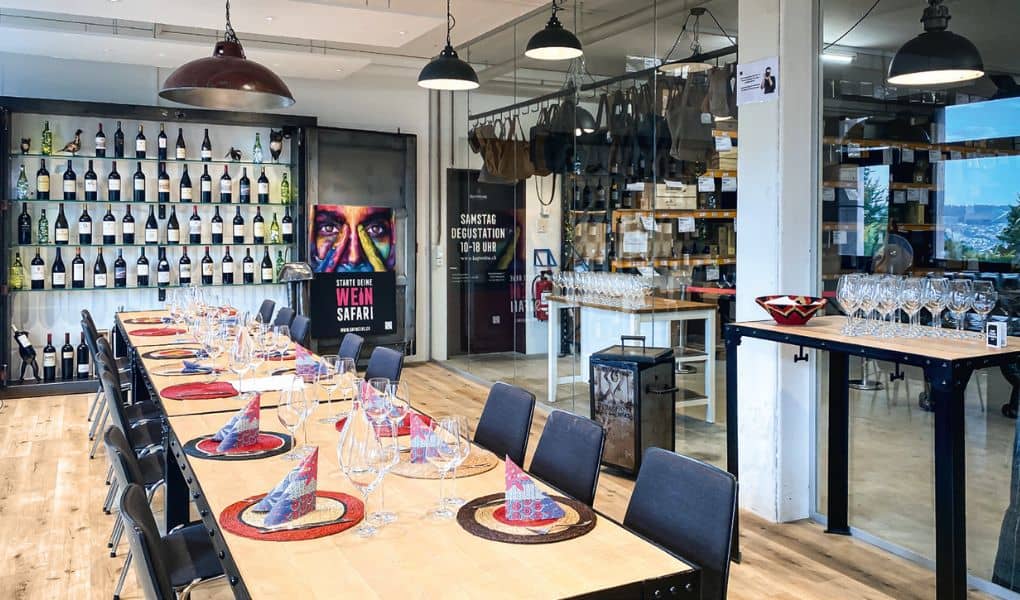 An unprecedentedly exciting journey has taken the country at the southern tip of the « Black Continent » since the end of apartheid 1992 from anonymity to being established at the top of the wine world. For this reason, we have since the beginning set aside a couple of cases, sometimes more, from certain wines, and so we have accumulated a considerable « library » of matured wines over the last 20 years. From this fund we regularly present one of our « pearl s» at our regular tasting events. This is to proof the great aging potential of South African wines. At our Taste The Best Event we show a wide range of matured wines. Where stocks allow, we offer you such rarities for purchase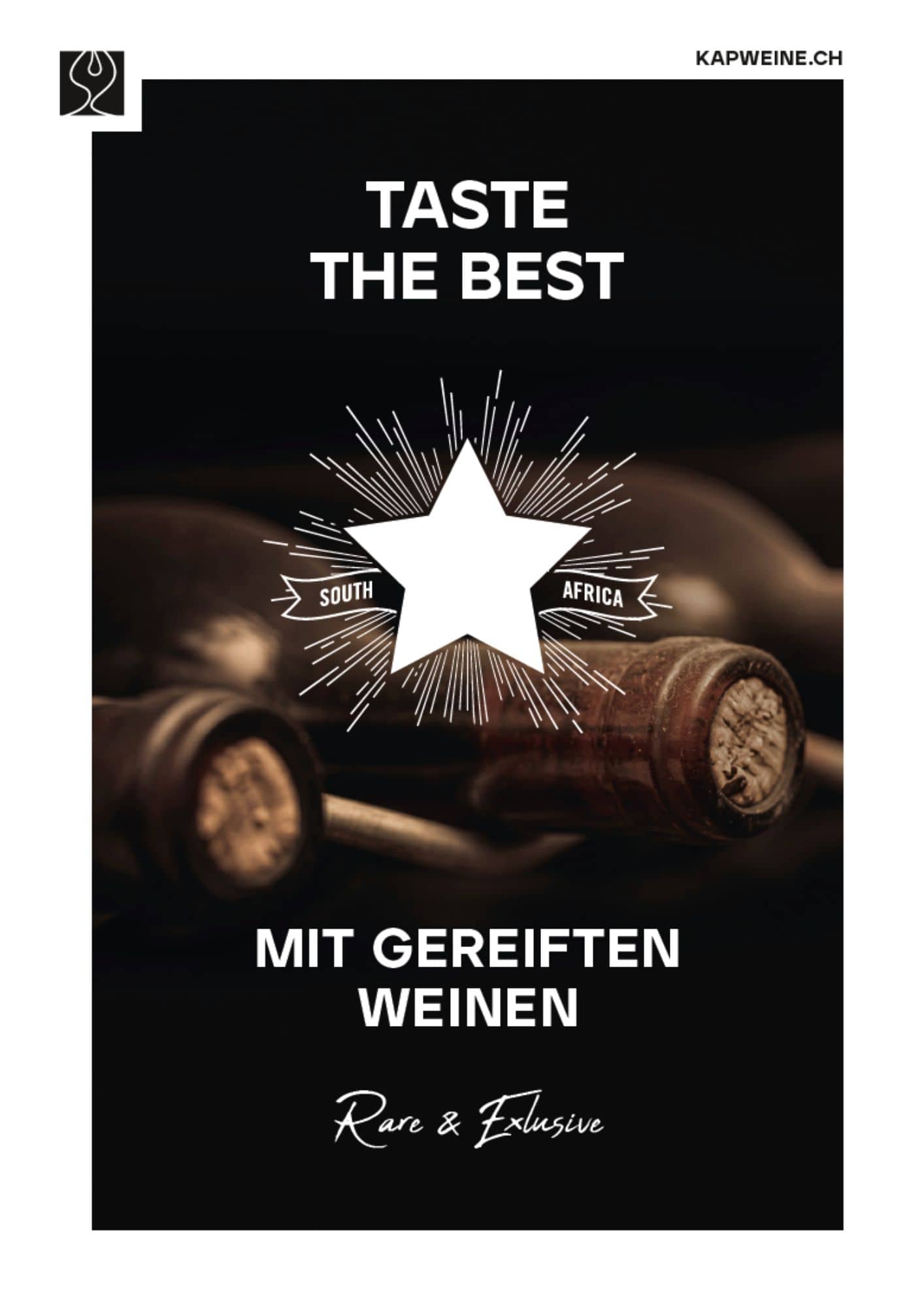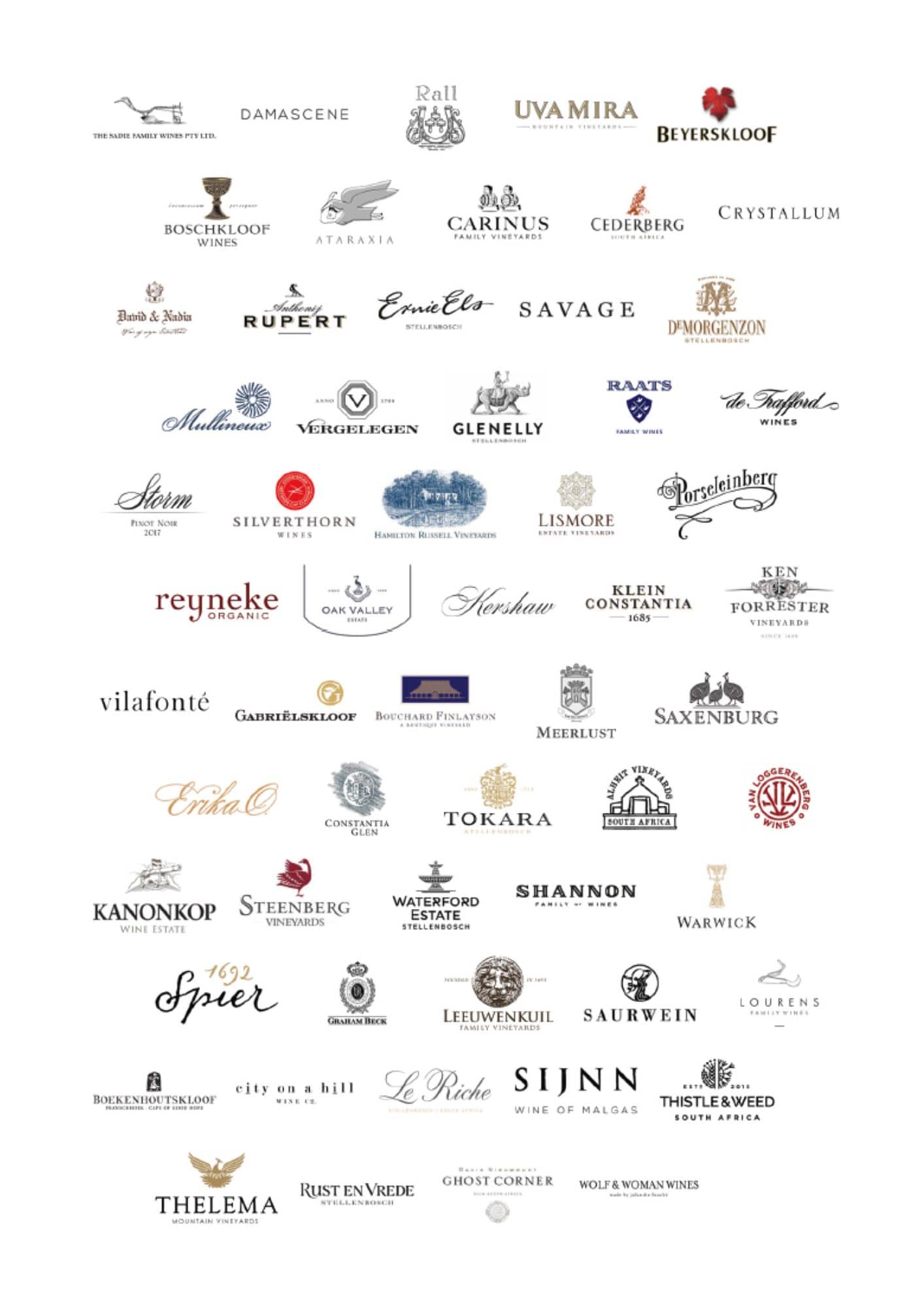 TIM ATKIN
Wine critic & Master of Wine
« South African wine remains a tremendous bargain, but the top brands are slowly attaining the prices they deserve, not least on the secondary market. » SPECIAL REPORT SOUTH AFRICA 2021
NEAL MARTIN
Wine critic – Vinous
« Treat yourself. Order a few bottles. Don't deny yourself. Yes, those prices are a fraction compared to other wine regions, as the Cape continues to offer unbeatable quality combined with affordability… Trust me when I say that in a decade's time, you might well rue not grabbing some of these exceptional wines.» SA REPORT – 2019
ANTHONY MUELLER
Wine critic – Robert Parker
« South African wines provide the best overall, pound-for-pound, priceto-quality ratio in the new world. I look at the UK and Germany, where they continually soak up about 45% of South African wine exports, while America continues to sip on South African wines, only consuming around 5%. Over the next 10 – 20 years, I see Americans increasing the amount of South African wine we consume. Simply put, it's time to wake up and seriously reconsider South African wines.» ROBERT PARKER – FEBRUARY 2021
NEW – Cape Fine Wine Index by KapWeine
TERROIR – OLD VINES
South Africa a remote destination where nature is still largely in harmony, and the soils and terroir are intact. Because on the oldest soils in the world, the South African wines show what they are made of.
No wonder, South Africa is home to 3700 hectares of so-called Old Vine vines, with 10 vineyards being over 100 years old. The special thing about Old Vine grapes – they show less fruit, have denser aromas, but reflect the terroir, and their roots are more deeply anchored in the poor soils to access water and nutrients. The quality and maturation potential are a big surprise across the board. Not only on top wines, but also wines from CHF 15 upwards show that even affordable wines develop in 1 to 3 days open, of course to be stored with a cork or screw cap in the refrigerator, and quickly reach a potential of 100% potential. This, of course, to the delight us wine lovers.
What we want to say is that most white wines can easily be drunk over 10 years, but often the best time for wines without barrel exposure is after 2 to 5 years… and between 3 to 10 years for wines with barrel maturation. The top red wines, however, can easily age for up to 20 years and those provide a very long time of enjoyment. For the red wines, we see the ideal drinking window between 5 to 15 years, where drinking pleasure is probably the best 5 – 10 years after vintage. But here too, those who prefer it rough and tough should start drinking earlier, and those who prefer it velvety and with tertiary flavours, just wait a little bit longer. And of course, it depends on the grape variety. Wines dominated by Cabernet Sauvignon for example, here I would be patient for at least 3 to 5 years. We therefore recommend buying wines with potential in larger quantities and as long as they are available, because the tendency for demand outstripping supply is in full swing. Rising prices on new vintages and also for mature wines is clearly given. In addition, you will notice that South African secondary market wines are increasing in value from year to year, so stocking up now makes sense in more than one way. Discover special terroir wines with the individual handwriting of the respective winemakers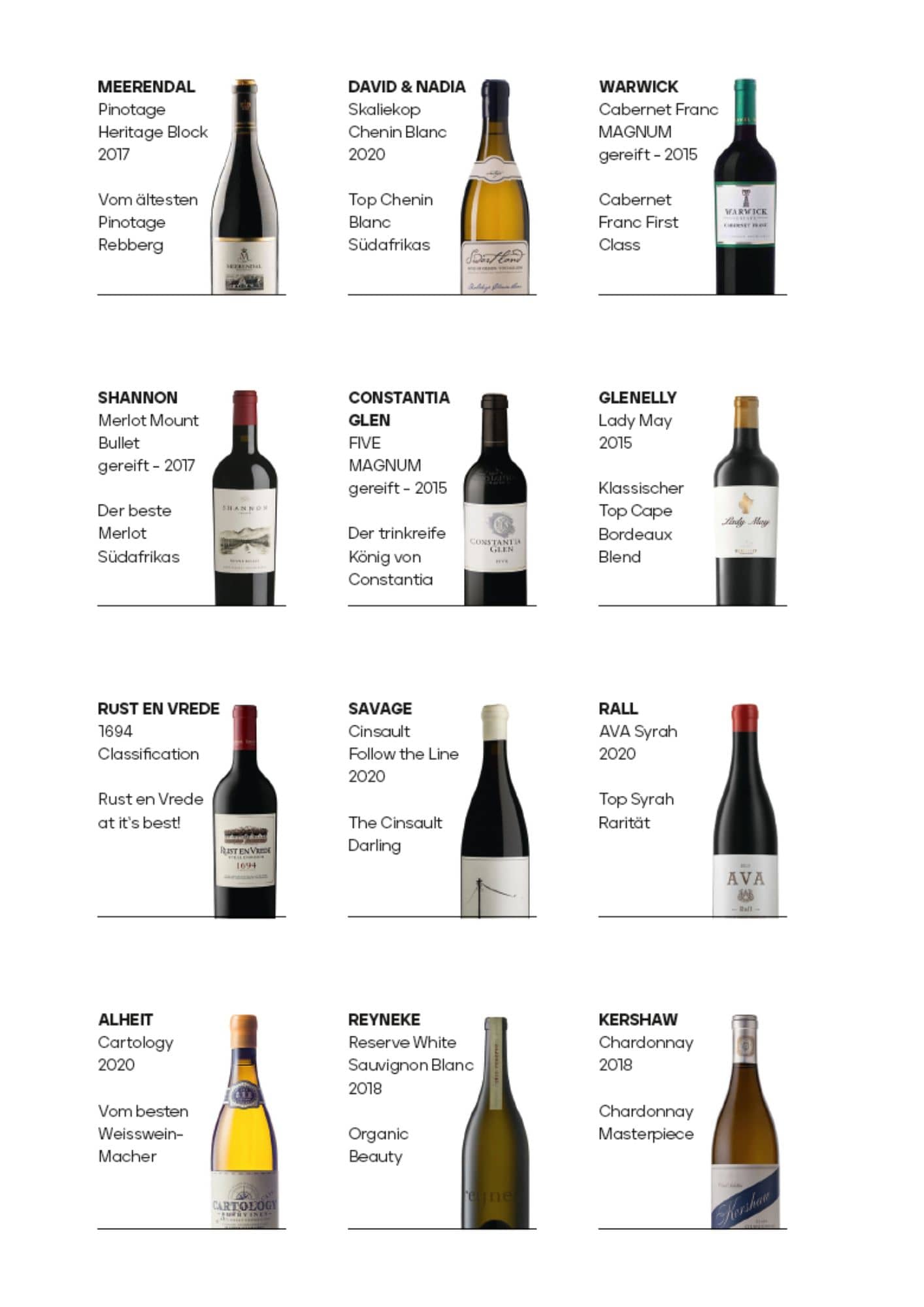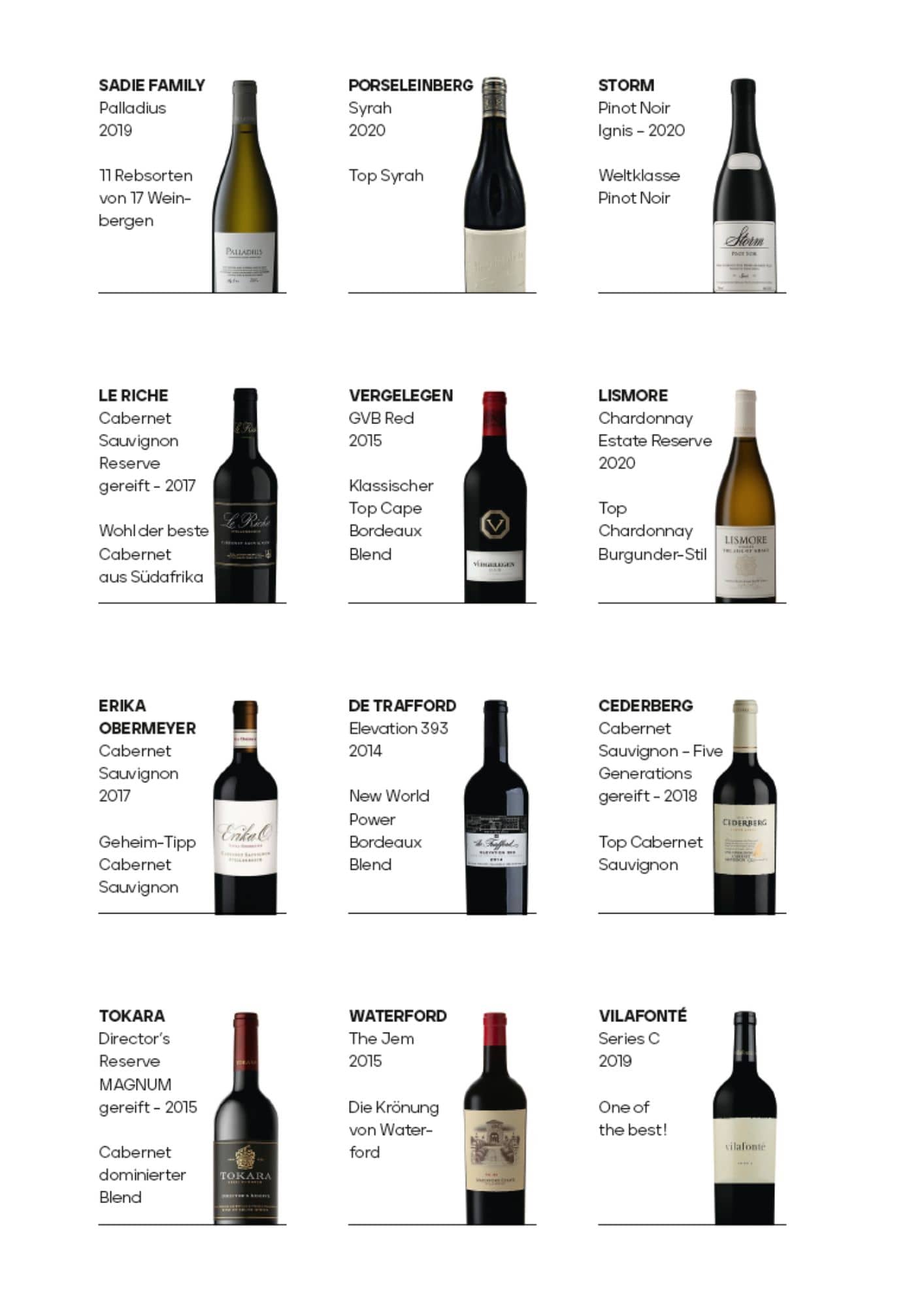 NEAL MARTIN
Wine critic– Vinous
Many of the producers covered in this report have spearheaded the Cape's emergence as one of the world's most dynamic wine regions. They made wines that were often sheer bliss in a bottle. As usual, I had to constantly verify retail prices, since coming off the back of 2019 Burgundy and 2018 Bordeaux (tastings), I had become accustomed to entry-level wines sometimes north of $50.00 per bottle, the same price as a dazzling South African wine batting at Bordeaux Second or Third Growth or Burgundy top Premier Cru level. That's no hyperbole. This is where the best of the Cape now stands.» VINOUS REPORT – 2021
ANTHONY MUELLER
Wine critic– Robert Parker
« I must say that I continue to be thoroughly impressed by the quality, value for cost and expression of site and terroir for much of the new vintages I've tasted. With the commanding expressions that capture and captivate the attention of drinkers, the top scores went to a couple of sweet wines, along with a stellar showing of Swartland bottlings from Mullineux and Sadie Family and some rather impressive wines from Hamilton Russell, Keermont, Kershaw, Klein Constantia, Le Riche, Lismore, Raats, Rall, Tesselaarsdal and Warwick.» ROBERT PARKER – JUNE 2022
TICKETS – «TASTE THE BEST»
EXCLUSIVE & LIMITED
ADMISSION CHF 30.–
Secure access to an exclusive wine tasting.
Tickets are limited and will be allocated on a first come first served basis. You will receive a confirmation after a successful ticket purchase. The value of CHF 30.- will be credited on the day of the event, from a net purchase value of CHF 300.- upwards.
Directions KapWeine
​WHETHER BY CAR, PUBLIC TRANSPORT OR BY FOOT
Please use the free parking spaces at the Winterberg bus stop, directly opposite the waste disposal park..
Rütibuelstrasse 17, 8820 Wädenswil