South Africa Days 2023
Win 2 flight tickets to Cape Town
Take part in the big South Africa competition now
You have always wanted to visit South Africa and get to know the country, its culture, animal diversity and wine regions. Then take the opportunity now and answer the competition question correctly!
Prizes to win
1st prize                –            2x flight tickets to Cape Town with Edelweiss worth approx. CHF 3000.-
2nd prize               –            1x 2 nights for 2 pax in a Luxury Private Chalet (full pension, drinks and safaris included) from Rhulani Safari Lodge worth CHF 2'000.-
3rd-4th prize        –             1x Wine of the Year Tasting Set
5th prize              –              1x De Grendel Rubayiat Magnum
6th-7th prize       –              1x KapWeine Gin Safari Tasting Set 
8th prize              –              1x Rust en Vrede Estate Magnum
9th prize              –              1x Chocolate Block Magnum
10th prize            –              1x Rozendal Bio Vinegar Gift Set

How many wines are included in the 1st Cape Fine Wine Index for South African wines?
Resolution: 54 Wines
Winner competition
Congratulations to the winners of the big South Africa competition and have fun with the prizes.
01. Rank – Piotr B. aus Oberrohrdorf
02. Rank – Carola V. aus Wangeried
03. Rank – Sabine W. aus Aarau
04. Rank – Ernst K. aus Dürrenroth
05. Rank – Andreas G. aus Signau
06. Rank – Nicolaus L. aus Riehen
07. Rank – Paolo F. aus Sessa
08. Rank – Renata H. aus Herisau
09. Rank – Adrian S. aus Glattbbrugg
10. Rank – Luca M. aus Schindellegi
The winners will be personally notified by KapWeine.
Terms and conditions
Closing date: 10th September 2023. Winners will be drawn at random and notified personally by 20th September.
All natural persons who are 18 years old or older and a permanent resident of Switzerland are eligible to participate. KapWeine employees and participating partners are excluded from the competition. Only one entry per person is possible. Participation in the prize draw only with full address and correct competition answer. Automatically generated entries and mailings as well as technical manipulations are excluded from the competition. Participation is free of charge and free of any obligation to purchase.
As a participant in the competition, you agree that the data you provide (full first name and surname) may be published on kapweine.ch or other KapWeine communication channels in the event that you win.
The prize is personal and non-transferable. The change of the airline is not possible, also excluded is a cash payment of the prize.
If the trip cannot take place within the scheduled time frame, there is no right to a replacement trip, regardless of the reason for the trip cancellation.
Validity
The two Economy Class tickets are valid for one year from the start of the Edelweiss winter flight schedule 2023-2024, expected in October 2023. High season dates and public holidays are excluded. Airport taxes and other mandatory fees are included in the price, seat reservations or other surcharges are at the winner's expense.
Further information
The legal process is excluded, no correspondence will be entered into about the competition.
Participants agree to receive the electronic newsletter from Kapweine and knechtreisen.
Partner Edelweiss
As the leading Swiss airline, Edelweiss takes you to the most popular holiday destinations – including Cape Town!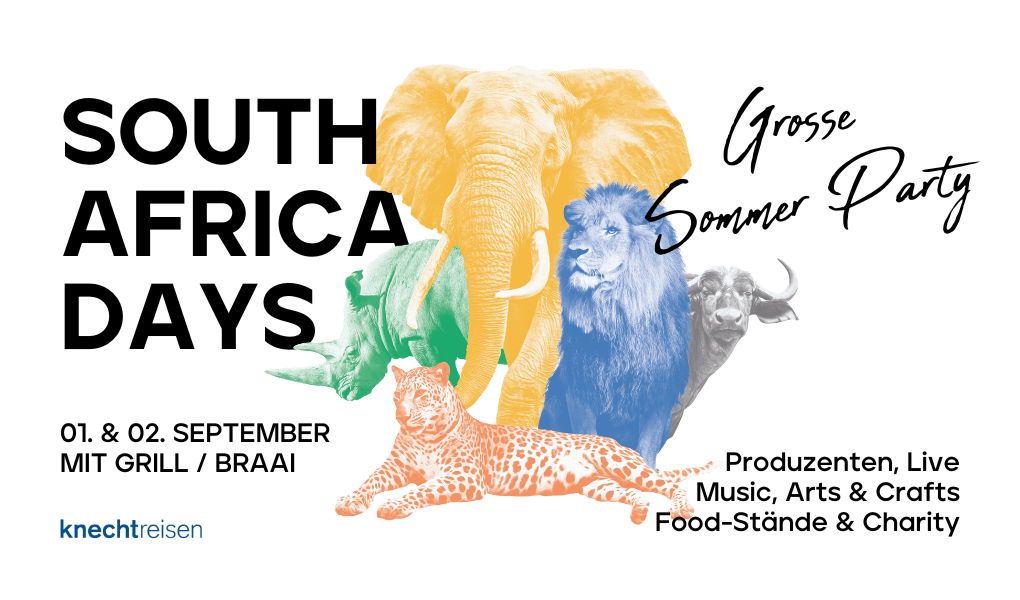 Fri 1st September 16-22h (Tasting until 20h, Grill/Braai 17-21h)
Sat 2nd September 10-22h (Tasting until 20h, Grill/Braai 12-21h)
Come by & celebrate the «South Africa Days 2023» with us in Wädenswil! Free 200+ wine tasting, barbecue/braai, live music and much more.
In honour of our loyal customers and our many years of existence, a South African summer party of a special kind awaits you at the beginning of September. KapWeine – The Home of South African Wine turns 27 years old this year!
Immerse yourself in the South Africa Days in Wädenswil and taste new wines, long-standing favourites, magnum hammer deals and killer deal offers. A number of producers will be on hand to present their wines in person. With over 200 tasting wines on offer, an MCC showcase, you won't be disappointed at our Cüpli bar and our Braai/grill stand. Enjoy live music in a cosy atmosphere, with Arts & Crafts/Food and Charity exhibitors as well as travel lectures by knechtreisen and let your soul dangle until 22.00 h in the evening.
Wir freuen uns auf Ihren Besuch am Event.
As usual, you will benefit from a Cash & Carry discount* at the event!
*Valid on all not yet discounted wines – cannot be cumulated with other discounts.