Decanter
hall of fame 2022
The fourth woman in 38 years to be inducted into the Decanter Hall of Fame by Decanter magazine.
Our 2022 Decanter Hall of Fame award winner's enthusiasm for South Africa's old vines is deeply rooted in the country's heritage and her own. This self-proclaimed «farm manager's» dedication to her cause is a model for the entire wine world.
Rosa Kruger grew up on a farm in the northern Transvaal, surrounded by nature and the dangerous immensity of the Veldt. From age five, she regularly packed a bag with food and water and set off into the wilderness with one or more of her five siblings without shoes. «We would come back at dark to take a bath, sleep or hide,» she says. We were pretty wild.
It is an instructive story that clarifies several things about her. Kruger is strong, mentally independent and likes to travel. In short, she was never meant for a desk job, although she worked as a journalist and then a lawyer until her mid-30s. Instead, she has made it one of the world's leading viticulturists, although she prefers the term farm manager.
Kruger was also a key figure in developing South Africa's post-apartheid wine scene, advocating good labour practices, helping a local nursery import new European grape varieties such as Assyrtiko and Garnacha Peluda, and helping young winemakers find special vineyards. And then there's her work tracking down, preserving, nurturing and promoting the Cape's precious old vines.
«Why me? There are many people more deserving,» was her modest response when she learned she had been selected for this year's Decanter Hall of Fame Award. But the woman once described by local wine writer John Platter as «the warrior queen of South Africa's modern wine transition» is an excellent choice. She is the first female winemaker (or farm manager) to be honoured and the first South African.
The major South African wine producers, the wine society and the South African people have not stopped celebrating this award on their social networks.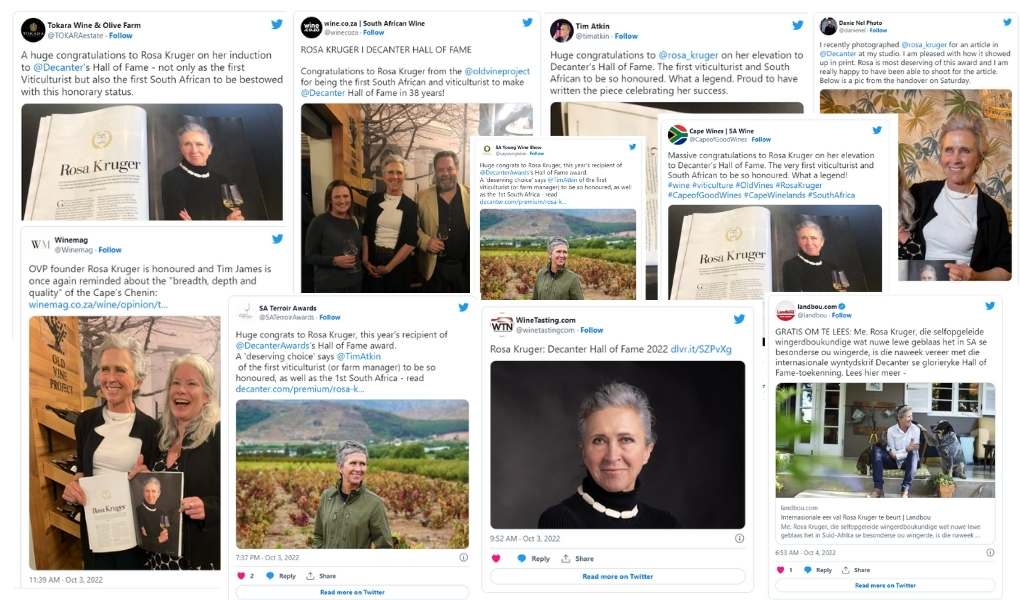 About Rosa Kruger
It is not the first time that Rosa Kruger has received an award of this kind.
Kruger is 57 years old and the great-great-granddaughter of Paul Kruger. «I come from a family of lawyers and farmers,» she told Old Vine Projekt in an interview five years ago when she was the winner of the Old Vine Awards in South Africa.
She has an M.A. in communications and an LL.B. degree. These qualifications may seem a little irrelevant to the tough business of extracting grape juice from the often unforgiving soils of the Winelands. But Rosa has clear ideas about the relationship between the organic, complex quality of nature and the intellectual challenge of viticulture.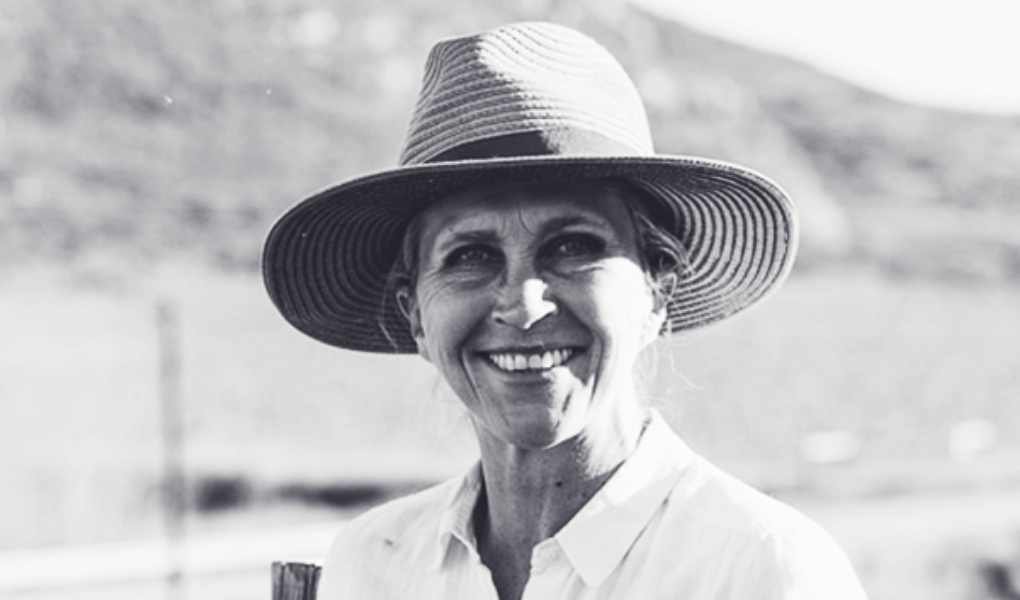 Rosa gained experience at Rupert Wines, Rupert and Rothschild, Cape Point Vineyards, and worked with Eben Sadie in various wineries in France, Spain, Italy, Argentina and Slovakia.
She also left South Africa, where she was uncomfortable, married and had a son, but returned in time for «that glorious day» when Mandela was released. She then qualified as a lawyer but did not want her son, who had grown up on a farm, to become a city kid. «By chance, someone invited me to work on a farm near Elgin [one of South Africa's cool new wine regions] in 1997/8 – on a tenth of my previous income. We lived in a biosphere surrounded only by forest,» she says.
But the beginnings were not easy. «The two top scientists at Stellenbosch University took pity on me. I gave them food and wine, and in return, they taught me,» Kruger said in this interview for Old Vine project. Somehow she was asked to look after the vines on a couple of estates – Uva Mira in Stellenbosch and Cape Point, whose wines have since found great favour.
Today, Rosa Kruger is one of the most renowned winemakers in the world. At the Masters of Wine seminar on old vines that recently took her to London, she repeatedly emphasised:
«I don't like to talk about wines; I only like to talk about vines».
And said so many times, «I love viticulture that it was hard to believe her. I do a lot of practical, physical work. Working in the heat, with sweat running down the tip of your nose and back, is hard. But I work very closely with the workers, which I appreciate. Working conditions and policies have improved».
She is a woman who is not afraid of adversity and hard work. «What makes me happy is working in the vineyard, and I want to get more involved in training the farm workers. The first year we made a Sauvignon Blanc in Elgin, I sat all the farm workers around a table and let them taste it. They were taken aback, but I asked them what they tasted and smelled. One of them, who used to be an apple farmer, said: This wine smells like the grass between the apple trees when I mow it in the early morning.» She beamed.
Today she is considered the «Queen» of the Old Vines.
Based on the article by Tim Atrkin for «Decanter», dated 03.10.22