South Africa wines
among the winners
It's hard to believe that South Africa is moving up the rankings year by year. Thanks to KapWeine, in 2022 the import of South African wines increased by a remarkable 5% compared to the previous year.
The figures are even more fantastic, because in 2022 there was a decrease of 10.6 million liters in red wine imports. Only white wine imports increased by 1%. Thus, the total import of all wines in Switzerland was just under 150 million liters.
We analyze, explain and put into perspective the background of South Africa's wine imports compared to the rest of the wine imports in Switzerland. Exciting facts, figures and successful achievements.
Review 2021/2022
The remarkably low imports in 2022 are due to lower harvests in Spain and France in 2021, which led to supply problems with packaging materials and expected price increases.
In a similar way, production in South Africa was 5.5% lower in 2022. In particular, the reduction of vineyards, weather-related disease pressure and heat waves in some wine regions were the reasons for this. In addition, South Africa had to struggle with load shedding, which led to large-scale interruptions in the power supply and jeopardized the harvests, vinification and cooling of the wines.
To deal with these blackouts, many wine producers used emergency generators, which in turn led to large expenses in supply. To the delight of the winemakers, the abundant grapes exceeded the losses. For the five-year average of 1.346 million tons was exceeded in 2022. The cool vegetation and temperate weather conditions in most regions until harvest ensured uniform growth. Above all, the plants were supplied with sufficient water, as a result of which the new vintage is characterized by particularly aromatic fruit, moderate acidity levels and mature color and tannins.
The strong exchange rate of the Swiss franc meant that importers still stocked up on 158.5 million liters, which crossed the border by the end of 2021, exceeding the ten-year average of 155.1 million liters. South African wine importer KapWeine also recorded a whopping 268'904 liters of wine imports in 2022, posting a gain of 12'144 liters. This is a trend that has been continuing for several years in a row and shows the interest in buying South African wines.
The top 10 importers include the four largest retailers and discounters Coop, Denner, Lidl and Aldi, which will account for 65.5% of all imports in 2022. But even these have shrunk by 1.3% compared with the previous year. In contrast, Bataillard, Rütishauser-DiVino and Weinkellereien Aarau have led to a significant increase in volume in the top 10. But other specialist retailers such as KapWeine also recorded an increase in sales.
But what are the differences in wine imports?
Where small specialist retailers operate in a niche, address a small, focused target group and manage these with smaller quantities of bottles, the wholesale trade supplies everything in large format. Thus, a large part of the imports is bulk wine, which is sold in large containers to bottling plants, retailers or processors. This also includes bulk tanks or tankers used as commercial wine or processing wine for the production of ready-made fondue, sparkling wine, spirits or vermouth.
According to the Schweizerische Weinzeitung, 45.8 million liters of bulk wine were imported into Switzerland in 2022, which corresponded to just under a third of all wine exports. The average price of a liter of bulk wine red was CHF 1.78 and white CHF 1.35, respectively CHF 0.63 from Spain, CHF 1.73 from Italy, CHF 1.90 from France, CHF 1.63 from Germany and CHF 2.30 from the USA.
In comparison, KapWeine imported 268'904 liters as bottled wines in 2022, with an average price per liter of 15 Swiss francs. This puts the large volumes at the largest wine importers into perspective. Because it is known that bulk wines benefit from the following advantages: Cheaper transport, lower tariffs, cheaper wine, no bottling costs, possibility of blending or corrections, less CO2 emissions, bottling on site under own brand possible.
Kassensturz also reported in September 2015 that customers in wine stores can choose between the winery's original bottling and the retailer's own brand. Not necessarily a difference in taste, but clearly in price. The private label wine often arrives in tanks in Switzerland and is bottled here, allowing retailers to achieve high margins.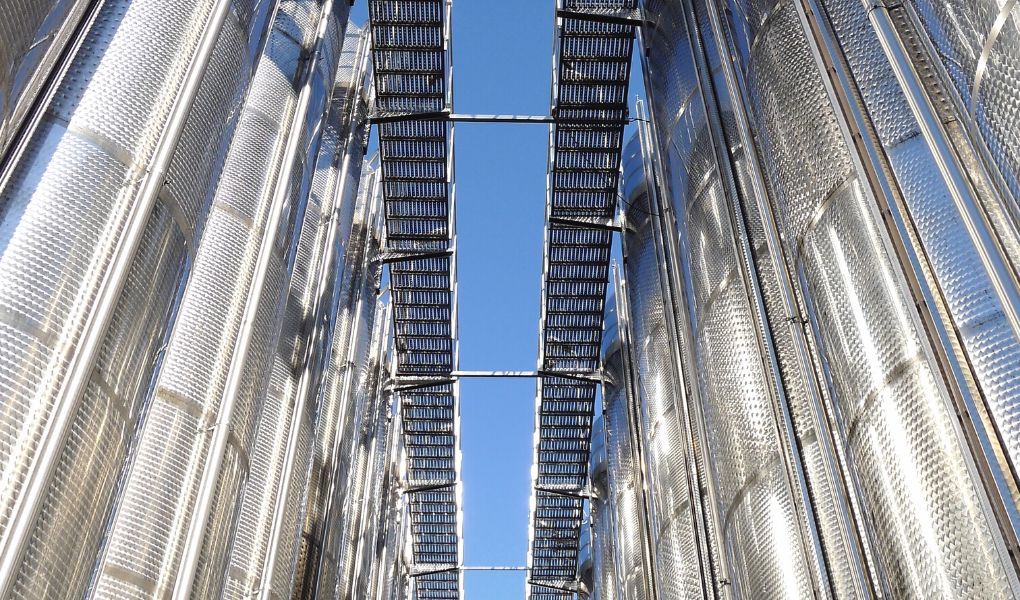 Why don't all importers rely on bulk wine?
Founder and CEO Andy Zimmermann of KapWeine explains:
If you look at the South African structure in wineries, you will notice that there are no South African Global Brands that supply the world market (with often questionable wine quality) with full marketing push. Therefore, at least in Switzerland, South African wine is not to be found in many places. However, this has absolutely nothing to do with the quality of the wines, much more with the honest approach of wine quality with good price-pleasure ratio.
Another aspect is the size of the wineries in South Africa. Exact figures are not known but if you look at the vineyard area of the 536 wineries as of 2022 (in 1996 there were only 295 and in 2000 already 355) you will quickly realize that the majority of the farms are equipped with about 30 ha to 100 ha of vineyard area. Some top wineries operate even on smaller areas (5 ha to 20 ha) and a few larger wine farms have a vineyard area of 100 ha to 200 ha. On this area, however, there are often more than 10 different grape varieties. With a yield of about 5 tons to 10 tons of grapes per hectare, about 5'000 to 10'000 bottles per hectare (depending on the grape variety) are pressed.
123 producers are registered as Estate. This means that these producers are only allowed to bottle grapes from their farm under the Estate label. An export license must be obtained for all wines to be exported. Samples of each lot of wine destined for foreign countries are sent to the Wine & Spirit Board in Nietvoorbij, Stellenbosch, where they undergo detailed tasting tests and chemical analysis in the laboratories before licenses are issued. Each bottle is given an official seal by the Wine & Spirit Board confirming that the information on the label regarding origin, vintage and grape variety is true. South Africa is a world leader in environmental sustainability and regulated production integrity.
It should be noted that there is hardly any wine farm that bottles its entire production. Mostly, the poorer qualities are sold as open wine to the many wholesalers who bottle wine without their own vineyards and sell it under fantasy names. A lot of open wine is also exported in tanks and bottled in the country of destination by the importer. In most cases, these are inexpensive wines of a corresponding quality. Ecologically, however, this process makes a lot of sense.
South Africa, compared to the rest of the New World producers (perhaps with the exception of New Zealand), forms the producer status that most closely resembles. That is, many small producers produce micro quantities of top wines. In South Africa, bottling quantities for top wines are often 6000 to 12000 bottles, often far below that. A few wine farms even produce up to 50,000 bottles of their top wines, but this is rather a rarity. In Bordeaux, in comparison, there are quite a few producers who are able to produce over 200,000 bottles of their top wines. South Africa has yet to reach that level – it takes time (and money) for new plantings, combined with patience in the vineyard. In addition, the style of the wines from South Africa, which are as diverse as the country itself due to its climate. Furthermore, there is a wide range of grape varieties combined with the small production quantities per wine, which makes general marketing difficult.
At KapWeine we follow the approach of a sustainable marketing strategy. Together with the wineries and the winemaker, we want to make the wines of South Africa more popular and better known. Because, as already mentioned, the quality and price performance clearly speak for the success of South African wines. That it will still take a while until all wine consumers know about it, we are aware of it. But other wine countries have also started small and nowadays enjoy prestige. South Africa can do the same, so it is all the more important that we offer quality wine in bottles.
Rank 53 – 2022 with 268'904 liter

Rank 54 – 2021 with 256'760 liter

Rank 57 – 2020 with 218'310 liter

Rank 82 – 2019 with 131'283 liter

Rank 98 – 2018 with 119'183 liter
Wine production international
Rank 1 – Italien with 19.3%

Rank 2 – Frankreich with 14.5%

Rank 3 – Spanien with 13.6%

Rank 8 – Südafrika with 4.1%
Swiss wine importers 2018 until 2022
2022 – 38.405 million liters of white wine + 109.587 million liters of red wine

2021 – 38.120 million liters of white wine + 120.175 million liters of red wine

2020 – 35.965 million liters of white wine + 118.248 million liters of red wine

2019 – 35.884 million liters of white wine + 113.986 million liters of red wine

2018 – 35.599 million liters of white wine + 114.338 million liters of red wine
1-10 largest importers in 2022 with 65.5%

11-25 largest importers in 2022 with 10.9%

26-50 largest importers 2022 with 8.1%

51-100 largest importers in 2022 at 5.9%

>101 other importers 2022 with 8.7%
Import open wines red – Top 5 countries
Spain 2022 – 5.259 million liters of red wine at CHF 0.70 with 7%

Italy 2022 – 127.640 million liters of red wine at CHF 1.80 with 47%

France 2022 – 100.011 million liters of red wine at CHF 1.90 with 39%

Germany 2022 – 0.471 million liters of red wine at CHF 1.70 with 2%

USA 2022 – 1.160 million liters of red wine at CHF 2.30 with 5%
Import open wine white – Top 5 countries
Spain 2022 – 3.957 million liters of white wine at CHF 0.50 with 16%.

Italy 2022 – 2.140 million liters of white wine at CHF 1.10 with 19%

France 2022 – 2.859 million liters of white wine at CHF 1.90 with 43%

Germany 2022 – 0.939 million liters of white wine at CHF 1.60 with 12%

South Africa 2022 – 2.322 million liters of white wine at CHF 0.60 with 11%