Summer Party Review
South Africa Days 2023
Wow, what a summer party we celebrated at the beginning of September! We thank everyone for coming and hope you enjoyed the tasting, feasting and celebrating with us!
Once again we were able to put a smile on the faces of our visitors, wine producers, exhibitors and helpers (Cape Angels). Because at this year's South Africa Days there was once again a lot to discover! We proudly provide insight into a few Facts and figures, like the Top 20 Wines and Karin's Insider Report on the last event and thank all guests for visiting as well as all helpers and wine producers for their hard work! It was definitely South African atmosphere at the KapWeine in Wädenswil and it really made fun!
Facts & figures
11 Wine-producers travelled from South Africa
200+ Wineswere opened at the tasting
approx. 1000 visitors were on site
approx. 7000 bottles found a new home
360 Boerewors-, 520 Zebra- and 655 Seafood portions were consumed
58 employees were at work at KapWeine (Team & Cape Angels)
Pictures: South Africa Days 2023, KapWeine
The Top 20
But let's get to the exciting part. Which wines did our customers like best? Here are the top 20 wines from the last event!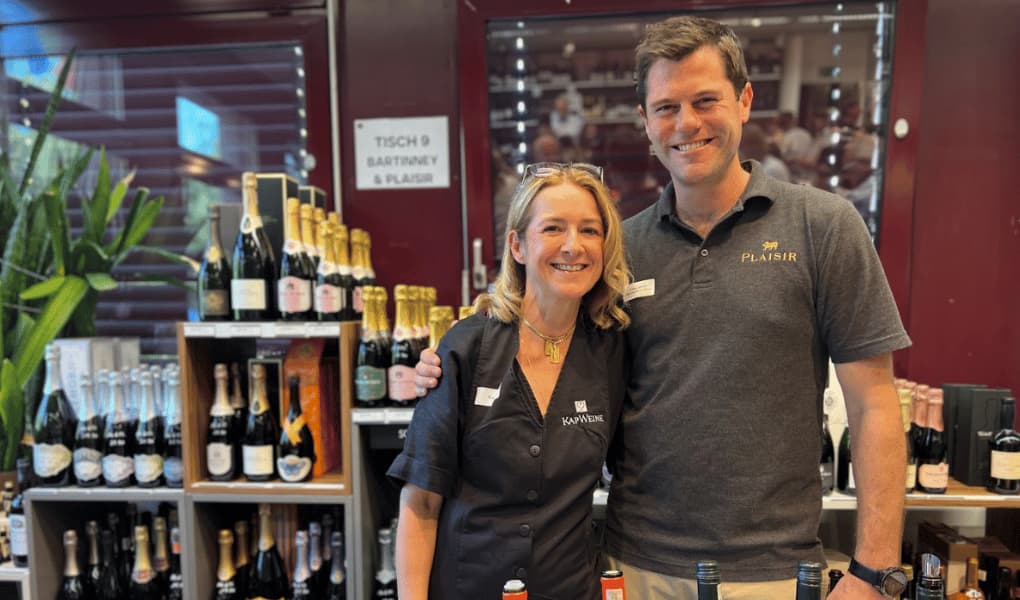 Karin Wild, wine consultant at KapWeine
What a South Africa party, or rather what a wine party! Sunshine, a lively atmosphere and over 200 wines opened. I hardly know which wine story to start with today……
During these two days, I was able to personally accompany many interested customers through the wine world of South Africa. We criss-crossed the showrooms to discover their new wine favourites with them. I would like to report on some of the wines that I simply "had to" show because they are already among my personal favourites, in the sense of a review of my event highlights.
Let's start with Chardonnay, if you have read my last reports, you will have noticed that I have a particular soft spot for this grape variety. New in the range is the Cap Maritime Chardonnay 2022, vinified by Gottfried Mocke, the great winemaker of Boekenhoutskloof. The result is a high quality coastal wine from the cool climate of the Upper Hemel en Aarde Valley, only 4 km from the sea, already very accessible when young, with a lot of freshness and flavour of limes, lemons and apples. At the same time, it has a beautiful structure with elegance and balance. I was allowed to test this wine for the first time in South Africa in March 2023. It immediately convinced me with its quality and I am therefore particularly pleased that it is now available for you at KapWeine. It can be enjoyed with an aperitif as well as with a lighter meal.
There is another Chardonnay I must tell you about. A 100% "Single Vineyard Chardonnay", this means that the grapes come from a single vineyard. In this case, from the oldest vineyard of the Glen Carlou winery, planted in 1989 on soil with a significant amount of quartz. Hence its name Quartz Stone. An honest wine that tells you about its terroir in the glass and goes wonderfully with all kinds of seafood.
You prefer Sauvignon Blanc and perhaps seafood as well? Then I recommend the Tokara Director's Reserve White to taste. Classically produced as in Bordeaux – i.e. fermented in large barrels – another highlight with a complex nose of ripe passion fruit, citrus and yeast notes. With its wonderful depth, it is the perfect food companion. I can only say, taste this drop and let yourself be surprised.
But now to the red wines. Do Bartinney and Plaisir mean anything to you, if not you have missed something. The history of Plaisir de Merle began back in 1687 with a Huguenot from a small French village who fled to South Africa and laid the foundation stone of the winery. Today, the wine farm belongs to the Bartinney winery and the "de Merle" has disappeared from the name. So today the wonderful Bordeaux blend is simply called Plaisir or, in this case Plaisir Grand Red. The 2018 vintage consists of 41% Cabernet Sauvignon and 20% Merlot plus some Cabernet Franc and Malbec. Notes of dark plum, black fruits, herbs, spices and cedar wood flow into the nose. A very classic and thus timeless, wonderful wine.
Bartinney, on the other hand, comes up trumps with a great Cabernet Sauvignon named Skyfall a real classic that thrilled me. It has everything a "real" Cabernet needs in my eyes; cassis notes, eucalyptus, tobacco, cedar as well as power, structure and backbone. The wine has nothing to do with the James Bond film Skyfall, but it would certainly be a wine worthy of 007.
Speaking of Cabernet Sauvignon, the Erni Els Proprietor's Cabernet Sauvignon has taken my heart by storm and also the hearts of many customers. This wine convinces with a lot of structure and dark fruit. It flexes its muscles and at the same time shows an extraordinary depth and purity of fruit, I can only say wow! To top this wine in the Erni Els line is, in my opinion, only possible with the Ernie Els Signature Blend. We find cassis, black cherries, leather, cinnamon as well as opulence and acidity. What more could you want, a great wine for special occasions.
We can also expect great wines, or rather great wines, from Rust en Vrede. My event highlight from Rust en Vrede is the 2020 Estate Wine, which is also comes Magnum in a beautiful wooden box. A blend with 64% Cabernet, 28% Shiraz and 8% Merlot. Black Forest cake meets cedar wood, power and lightness are wonderfully combined in this wine. The winery itself says that the "Estate" is the most honest reflection of the terroir of Rust en Vrede, a beautiful story, discover it yourself with a glass of Estate 2020, cheers.
I also have to tell you about a Cabernet Franc with 30% Merlot and 5% Cabernet Sauvignon called Taaibosch Cresceno. This wine also makes my heart beat faster. Especially after I was allowed to spend a few days on the majestic vineyard at the foot of the Helderberg with a panoramic view all the way to Cape Point. At 300 metres above sea level, overlooking Fals Bay, I was able to experience the exceptional location, which gives an idea of the wine's potential just by looking at the vines. Every sip of this wine reflects the story of its origin. Red berries as well as elegance and tension symbolically reflect the sun combined with the cooling sea breeze, which allows the grapes to ripen slowly and optimally. At the event you could taste the 2018 as well as the 2019 vintage, 2018 shows more berry notes compared to 2019. 2019 is a bit more earthy and tells us its story and its development more towards Bordeaux style. Choose for yourself which one you like better, I love them both!
Now I have to be careful not to end up reporting on every single wine of the summer party with my enthusiasm, because almost all of them would have deserved it. So I'll end my review here and look forward to the "CWG" and "Taste the Best" event at the end of September.
Your Cape Angel Karin
Wine consulting
By the way, if you would also like a personal guided tour through the world of South African wine with me, just get in touch with KapWeine. If possible, a time slot will be reserved for you at the next event.
All prices in CHF incl. VAT. Daily price as of 12.09.2023.
Offers valid while stocks last. Errors and price changes subject to change.