Picnic at the wineries
The Picknick-Guide
The long summer days in South Africa tempt you to pack the occasional picnic. Here is a selection of estates that offer great picnics in the beautiful countryside.
Winery Zevenwacht (Stellenbosch)
Order a picnic basket for R440 (approx. CHF 25.-) for a basket for two and enjoy it overlooking the lake on the tree-shaded lawns of Zevenwacht Wine Estate. From snoek pie to meatballs and strawberry cheesecake, there's something for everyone. You can even choose a Farmhouse braai basket and have your own barbecue under the oaks. Vegetarian baskets and picnic baskets for children are also available.
Zorgvliet-Weine (Franschhoek)
Bring a blanket and find a comfortable spot under the oak trees while you enjoy a picnic basket for two. There are several options, starting at R555 (approx. 35.-) for the Silvermyn for Two baskets, containing all the delicious bites you would expect in a picnic basket, including a bottle of Silvermyn wine. Other options include the Meaty for Two (R570 (approx. CHF 37.-)), the Snack Basket for Two (R625 (approx. CHGF 40.-)) and Zorgvliet for Two (R605 (approx. CHF 39.-)). There are also vegetarian baskets and baskets for children and a basket for a family of four (R875 (approx. CHF 56.-)) – but the latter must be ordered at least 24 hours in advance. If these options don't suit you, you can also create your picnic basket.
From majestic mountains to spectacular vineyard views, these are the places to visit for a gourmet picnic in the Winelands.
Plan a trip to The Cellar Door at Jordan to picnic on the lush lawns overlooking the stunning Stellenbosch Kloof Valley. The R595 (approx. CHF 38.-) picnic hamper for two adults includes a selection of hard and soft cheeses, cured meats including Ryan Boon biltong, bread, olives, homemade jams and spreads, a pastry from the bakery and a free-range chicken pie. There is also a picnic for children for R159 (Approx. CHF 10.-) per child.
Boschendal (Franschhoek)
Enjoy the breathtaking view of the mountains and vineyards under the trees of the pavilion at Boschendal Estate. Guests choose a table (please note that only a limited number of tables are available), a picnic blanket and chairs, or they can bring their own. The Werf Picnic Basket is filled with freshly baked bread, green salads from the Werf Food Garden, beef and pork meatballs smoked Angus beef from Boschendal Butchery, camembert from Dalewood and one of the famous desserts. A single basket costs R320 (CHF approx. 20.-) and a double basket R620 (approx. CHF 40.-). There is also a picnic for children and a vegetarian option for adults and children. Be sure to book online – it's trendy on Saturdays and Sundays when live music is part of the programme!
Groote Post (Darling)
Cold cuts, salads, a quiche and a local cheese selection, and a dessert, are what you can expect in an R225 (approx. CHF 14.-) Groote Post picnic basket for one person. There is also a special children's picnic for children under 10. Book online to escape the city for a quiet afternoon. Note that the baskets must be booked at least 48 hours in advance.
Weingut Hartenberg (Franschhoek)
Enjoy a picnic of local produce such as bread and spreads, cheese, charcuterie, the famous Scotch egg and a lemon square for R300 (approx. CHF 19.-) per person on Hartenberg's extensive lawns. Vegan, vegetarian, halaal and pork-free options are also available on request.
Hazendal Weingut (Stellenbosch)
The gently rolling lawns are ideal for a picnic in the Winelands or book a picnic spot in the gardens or along the lush wetlands. Enjoy a Babushka Picnic Basket for R300 (approx. CHF 19.-) per adult and R140 (approx. CHF 9.-) per child, which can be booked online. It contains everything you would expect from a picnic basket, including artisan bread, snoek pâté, charcuterie, chicken skewers, salads, cheese and the dessert cup of the day.
Das Herrenhaus in Nederburg (Paarl)
In addition to stunning views of the Drakenstein Mountains and the farm's vineyards and gardens, enjoy a delightful garden picnic for R540 (approx. CHF 35.-) for two people. Baskets include a selection of cheesy bites paired with wines from the farm, followed by lamb sliders, chicken wings, vegetable spring rolls and a salad, ending with something sweet from the chef's selection. Each picnic comes with a bottle of MCC or wine, and a vegetarian option is also available. Reservations must be made at least 24 hours in advance at Nederburg.
Mont Rochelle Hotel & Weingut (Franschhoek)
Enjoy a picnic by the dam. A selection of cheeses, charcuterie, homemade bread, fish cakes, salads, arancini and Malva-flavoured truffles – the Chardonnay basket costs R490 (approx. CHF 31.-) for two adults. For R590 (approx. CHF 38.-) for two adults, you can opt for the Miko basket, which includes all of the above plus pork kebabs, a beef teriyaki salad and dark chocolate brownies. There is also a children's basket for R140 (approx. CHF 9.-) per child and vegan and vegetarian baskets. Any other dietary requirements can also be catered for – just let us know when you make your reservation.
Mooiplaas Weingut (Stellenbosch)
Enjoy a picnic in the historic gardens of Mooiplaas for R400 (approx. CHF 25.-) for two people or choose a cheese platter for R85 (approx. CHF 6.-) for one and R165 (approx. CHF 11.-)for two guests. The gourmet picnic includes freshly baked baguette, cheese, a pasta salad, beef or chicken wraps, spreads and jam, a sweet treat and a bottle of wine. The cheese platters include a selection of crackers, salami, olives, jam, fruit, and two types of cheese.
Quoin Rock (Stellenbosch)
Enjoy a stylish picnic in a picturesque, natural setting. Picnic prices are R400 (approx. CHF 26.-) per person and R180 (approx. CHF 12.-) per child's basket. Vegan, vegetarian and gluten-free diets are catered for. Picnics include freshly baked baguettes, spreads, cheeses, charcuterie, salads, beef fillet and dessert, and unlimited sparkling or still water—Book online for an elegant picnic that pulls out all the stops.
The restaurant at the Grande Provence (Franschhoek)
Spend a summer day under majestic oak trees in Franschhoek. Single picnic baskets cost R350 (approx. CHF 22.-), while a double basket costs R600 (approx. CHF 38.-). They include freshly baked ciabatta with spreads and jam, a seasonal vegetable salad, roast chicken and rosemary pie, trout and corn arancini, cold cuts and cheeses, and a jar of seasonal fruit and chocolate brownies for dessert. There is also a vegetarian version of the picnic and a children's picnic for R150 (approx. CHF 10.-) per child under 10.
Rhebokskloof Weingut (Paarl)
Experience a scenic picnic in the historic Paarl Valley, surrounded by the hills of the Paarl Rock Mountains. A basket for two costs R650 (approx. CHF 42.-) and includes a red or white wine bottle to enjoy with your feast of salads, cheeses and charcuterie, bread and jam. A vegan picnic option is also available. Book online, grab a picnic basket and bottle of wine, and relax!
Spier Farm Kitchen (Stellenbosch)
Enjoy a picnic where the food is packed in 100% biodegradable and compostable containers. Bring a blanket and enjoy the delicious food on the lawn by the lake or under the oak trees. Book online. Picnics cost R295 (approx. CHF 19.-) per person and include a range of delicacies such as beef meatballs, chicken drumsticks, potato salad, cheese and charcuterie. Vegan and vegetarian options are also available.
Warwick Gourmet Picknicks (Stellenbosch)
There is a wide choice of picnic spots in Warwick, each offering a different view and experience. The gourmet picnic for R550 (approx. CHF 35.-) is for two people (R300 (approx. CHF 19.-) for one person) and includes Warwick's famous biltong pie, homemade bread, a charcuterie box and a Cape Honey Cheesecake. There is a basket for R150 (about CHF 9.-) for children, and vegan and vegetarian options are also available. House wines, MCCs, champagne and non-alcoholic drinks are also available at an additional cost.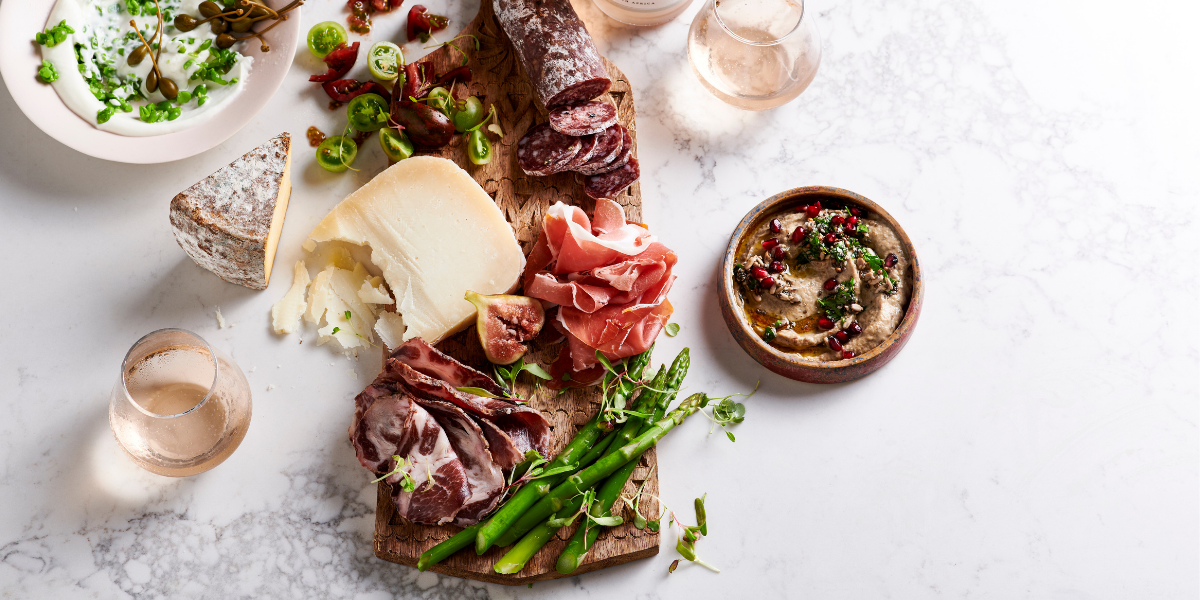 Wineland Vergelegen (Somerset West)
The peaceful and beautifully shaded Vergelegen camphor forest is the perfect place for a summer picnic. The price for a classic basket is R330 (approx. CHF 21.-) per person, but there are also options for children, vegetarians and vegans. The classic basket includes tomato gazpacho, duck liver and snoek pate, plum and ginger marinated chicken, bacon and leek quiche and more. Book online at least 24 hours in advance.
Wineland Vredenheim (Franschhoek)
Get a bag of goodies from Hudson's restaurant and enjoy them in the beautiful gardens of Vredenheim Estate. A double bag for two costs R490 (approx. CHF 31.-), a triple bag R735 (approx. CHF 47.-). Offerings include charcuterie, salads, a cheese selection and a caramel chocolate brownie trifle. Children can have their picnic with an activity pack for R65 (approx. CHF 4.-) per child. Visit the website to book.
Table in Nitida (Durbanville)
Pick up a box of cheeses and charcuterie for R580 (approx. CHF 37.-) for two people (or R350 (approx. CHF 22.-) for one person) and enjoy a relaxing summer afternoon with wine and a view. If you prefer a heartier meal, such as a gourmet beef burger, spicy vegan tostada or aubergine fattoush salad, you can choose from the special outdoor picnic lawn menu. A picnic hamper for children is also available for R89 (approx. CHF 6.-) per child.
Schmelztiegel (Elgin)
Relax in The Melting Pot's tree-shaded garden while enjoying one of the three picnic baskets. The standard picnic box costs R460 and includes a bottle of water, ciabatta, cheese, fruit chutney, hummus, marinated aubergine and olives, two salads and something sweet to finish. For R640, you get all of the above plus chicken liver or smoked fish pie and half a roast chicken. A vegan picnic box is also available for R460 (approx. CHF 30).
Geuwels Restaurant (Croydon)
Enjoy a delicious picnic on the lawn of the Vergenoegd Löw winery, courtesy of the team at Bertus Basson's newest restaurant. For R530 (about CHF 34) for two people, you can enjoy smoked Kalamata olives, Geuwels' famous roosterkoek with Bovril and biltong butter, camembert, half a smoked free-range chicken, Richard Bosmon saucisson sec, crisp peppermint tart and date balls.
If you are looking for a picnic guide in Cape Town, you will find it in the following article.
Edition Eat Out 20.01.2022