2nd place – Ghost Corner from Cederberg
Best Sauvignon Blanc (Price/Performance)
Our colleagues from SonntagsBlick wanted to know once again and have undertaken an international comparison of the grape variety «Sauvignon Blanc». In the blind tasting, 45 Sauvignon Blancs from all over the world faced each other.
The everybody's darling (Sauvignon Blanc) is even more sought-after, especially in summer, and is ideal for aperitifs as well as summer dishes. The grape variety is also on the rise in Switzerland. But which Sauvignon Blanc should you have drunk?
The SonntagasBlick has selected 20 Swiss and 25 international wines. The wines could not have less than 97 Parker points, not contain less than 95% Sauvignon Blanc and had to be the current vintages.
Discover more in the post now!
Ghost Corner Wild Fermented Sauvignon Blanc by Cederberg is the overall winner in price/performance and has been awarded 2nd place out of 45 Sauvignon Blancs.
The SonntagsBlick writes: High varietal typicity, gooseberry, lemon, nettle, refined, juicy, rhubarb, velvety texture, long.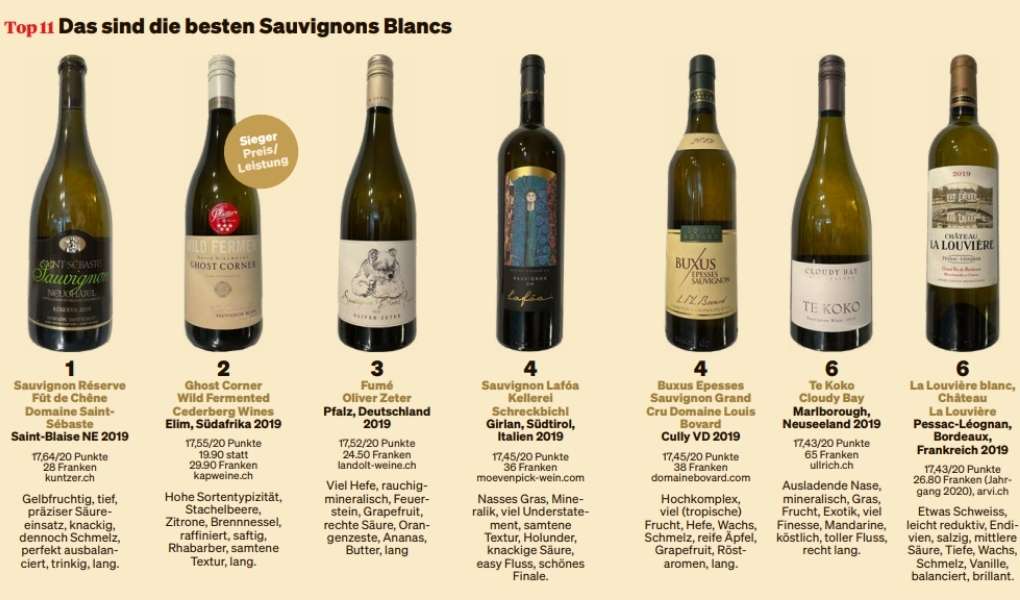 Image source: SonntagsBlick edition 26 June 2022
Ghost Corner by Cederberg
Wild Fermented – Sauvignon Blanc – 2019
1th Place by SonntagsBlick (Price/Performance)
2nd Place & 17.5 Points by SonntagsBlick
5 Stars by Platter's
An enticing Sauvignon Blanc with aromas of white pear, quince and crushed pineapple on the nose. A rich and creamy palate with lingering flavors of apricot and nectarines. A uniquely made Sauvignon that is truly unforgettable.
Special Offer – Sold Out
GHOST CORNER
By Cederberg – Wild Fermented – Sauvignon Blanc – 2019
CHF 19.90 instead of CHF 29.90
New vintage available from approx. Oct. 2022
KapWeine Tip
South Africa generally score with its wines with price / performance. The special terroir creates excellent wines of top quality. If you are looking for a high quality wine, you don't have to dig deep into your wallet for South African wines. Because already for a small price from CHF 10.- you get quality and high price enjoyment.
The jury of the SonntagsBlick Blind Tasting: Nicolas Greinacher (Wine Editor Blick Group), Roman Hermann (Member Mèmoire des Vin Suisse), Tobias Gysi (Head of Photography Blick Group and Wine Academician), Nadine Saxer (Winemaker's Daughter, Winery Owner), Lidwina Weh (Sommelier and Wine Academician), Michael Matthens (Deputy Head of Production Blick Group and Wine Sommelier) Walter Zweifel (Dipl. Ing., Agr, ETH and Delegate of the Board of Directors Zweifel 1898) , Urs Zweifel (Citywinzer and Oenologist Zweifel 1898) Ivan Barbic (5 Masters of Wine, Wine Importer, EditorWeinzeitung), Ines Rebentrost (Oenologist), Alain Kunz (Editor Blick Group, Member Mèmoire des Vin Suisse)
Edition of «SonntagsBlick», from 26.06.2022
To the BLICK LifeStyle & Indulgence article
Edition of «SonntagsBlick», from 26.06.2022
All prices in CHF incl. VAT. Daily price from 30.06.2022.
Offers valid while stocks last. Errors and price changes subject to change./p>