South Africa Days 2022
The winners are chosen!
South Africa Days 2022
As every year at the end of August, KapWeine celebrated its 26th anniversary with the South Africa Days 2022. 13 wine producers from South Africa were present, who enjoyed the exchange with our customers and were completely blown away by the rush. We can reveal that over 800 visitors came to see us over the two days.
But that's not all, because we at KapWeine have once again outdone ourselves and offered over 200 wines for free tasting! The one or other wine connoisseur probably reached his limit with the variety of wines. But the main thing was that you and we had fun! Because with our guitarist Sleepy Eddie James, we were properly heated up and grooved. But apart from wine, there was also delicious South African food to enjoy at our Springbok Bar and our Grill/Braai. That's right, zebra and ostrich fillet as well as boerewors and South African scampi and rock lobster! Where else can you find that!
And for those who wanted to experience even more South Africa, our exhibitors and partners knecht reisen, Biltong House, Shoho Art, Rowdy Bag and the charity organisations Friends of African Wildlife and Swiss Board Aid can be found.
And if you missed it, you can join us next year for South Africa Days 2023!
Big South Africa Competition
To celebrate the occasion, we launched a big South Africa competition together with our partners. There were a total of 10 prizes to be won. But the first prize, 2 flight tickets to Cape Town with Edelweiss, could only be won by one person. But let's start at the beginning; only those who answered the competition question correctly were eligible to win.
The question was: By which name was Nelson Mandela also known?
The answer: «Madiba»
And now it's time for the resolution! The winners have already been informed by email and the prize will be sent to the lucky winners by post! We wish the winners all the best and lots of fun with the prize!
Winner competition
1. Prize        – J. Meier from Küssnacht                                   – 2x Flight tickets to Cape Town with Edelweiss
2. Prize        – U. Veuve from Niederlenz                                 – 1x Top Rot 2. Edition Killer Set
3. Prize        – M. Hungerbühler from Hombrechtikon           – 1x Top Pinotage Killer Set
4. Prize        – A. van Wyk from Arlesheim                             – 1x Top White Killer Set
5. Prize        – J. van der Meulen from Villnachern                – 1x Top Chenin Blanc Killer Set
6. Prize        – S. Galliker from Nottwil                                     – 1x CHF 100 Voucher for a ROWDY BAG
7. Prize        – J. Henriques from Emmenbrücke                    – 1x CHF 100 Voucher for a ROWDY BAG
8. Prize        – M. Germann from Zürich                                  – 1x Metal figure from Shoho Art
9. Prize        – B. Gerber from Volketswil                                – 1x Biltong Get-to-know package YUM Original
                                                                                                    (1x 250g Biltong, 1x 500g Droewors, 1x Stokkies 250g)
10. Prize        – L. Simon from St. Gallen                                   – 1x Biltong Get-to-know package YUM Original
                                                                                                    (1x 250g Biltong, 1x 500g Droewors, 1x Stokkies 250g)
For those who didn't win, you can now benefit from the 20% Lion King discount*. Valid until Sunday 2 October 2022!
imply enter the voucher "LIONKING22" in the shopping cart and benefit from a 20% discount on your next purchase!
*Only valid on all wines not already discounted – cannot be cumulated with other discounts.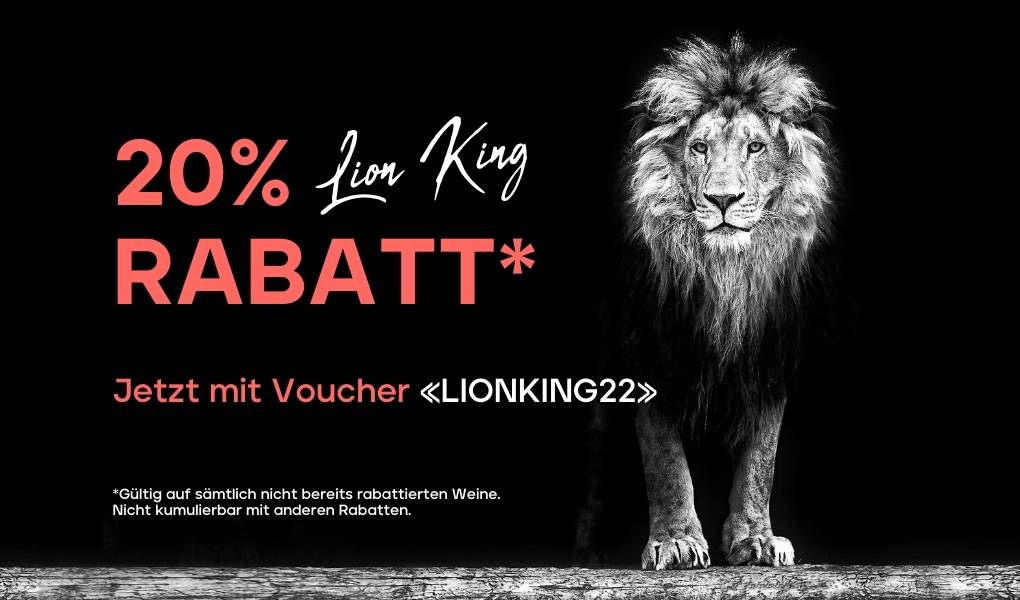 Conditions of participation
Closing date: 31 August 2022. Winners will be notified in writing by 10 September 2022.
The prize is personal and non-transferable. The change of airline is not possible, a cash payment of the prize is also excluded.
If the trip cannot take place within the scheduled time frame due to the pandemic, there is no entitlement to a replacement trip, regardless of the reason for the trip cancellation.
Validity
The two economy class tickets are valid for one year from the start of the Edelweiss winter flight schedule 2022-2023, probably in October 2022. High season dates and public holidays are excluded. Airport taxes and other mandatory fees are included in the price, seat reservations or other surcharges are at the winner's expense.
Further information
There is no right of appeal and no correspondence will be entered into about the competition.
Participants agree to receive the electronic newsletter from KapWeine and knechtreisen.
Partner Edelweiss
As the leading Swiss airline, Edelweiss takes you to the most popular holiday destinations – including Cape Town!
Partner knecht reisen
As a leading Swiss travel specialist, knecht reisen plans your next trip for you, such as to South Africa!