Porseleinberg
New vintage available
For us to present to you today one of the most exquisite South African wines, "the Porseleinberg", we visited winemaker Callie Louw at his winery in January. We tasted his latest creation, the 2020 vintage.
After a long exciting day in the dry and already almost desert-like Swartland, we (Andy Zimmerman, CEO KapWeine and Thomas Schneider, Deputy Managing Director KapWeine) were invited to a braai at Porseleinberg. But as isolated as the wine farm is, there are a few kilometres on the red dirt road, followed by a fenced area with a gate, extensive dirt roads stretching to the horizon, and a steep gravel road up Porseleinberg to manage. The drive alone was an experience, and yes, with a 4×4 vehicle, you are definitely on the safe side. But make sure you have a full tank.
Arriving at the Porseleinberg winery, we were warmly welcomed by Callie Louw and his family. In a small tour of the winery, we were allowed to learn more about the dry slate vineyard's particularities and Callie Louw's winemaking skills. And yes, Callie is a cool guy who is inventive and works hard for his wines! One feature that has gone out the window in this day and age still holds for Callie Louw. Because he still makes his wine labels himself with a 170-year-old Heidelberg printing and punching machine. You can discover more about this in the article below.
The subsequent tasting of the new vintage, in combination with the excellent braai menu, was indeed a feast. You must love your wine because you don't taste something like this every day. Coupled with a breathtaking sunset and the vastness around Porseleinberg, we remember the visit fondly. And finally, we get to take delivery of the Porseleinberg 2020!
As the official importer of Porseleinberg, we offer an exclusive deal in Switzerland for the Porseleinberg 2020.
Porseleinberg
Boekenhoutskloof – 2020
98 Points by Tim Atkin
Acidity and freshness characterise the nose. Round and quite rich in the middle. Racy. Biting and grippy on the finish.
Killer Deal – from 6 bottles
PORSELEINBERG
Boekenhoutskloof – 2020
CHF 79.00 instead of  CHF 99.00
Porseleinberg, home to one of South Africa's finest wines.
The Porseleinberg is home to a groundbreaking Cape Syrah that embodies the essence of a terroir-driven, authentic wine. The highly rugged and dry slate mountain is not exactly inviting to winemaking, but extreme terroir produces extreme wine!
This revolutionary long-term project by Marc Kent of Boekenhoutskloof brought in Callie Louw as a farmer and guardian of this exceptional vineyard.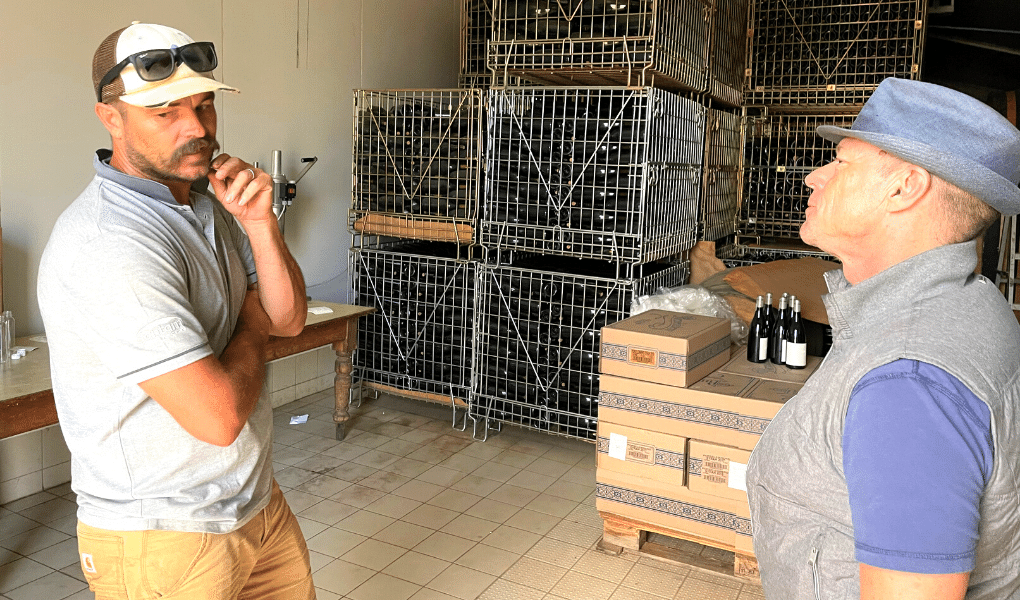 Business Trip Januar 2022 Links: Callie Louw, der Winzer von Porseleinsberg. Rechts: Andy Zimmer, CEO von KapWeine. Foto: KapWeine
A love story: Porseleinsberg & Boekenhoutskloof
Porseleinberg is part of the Swartland Independent Producers, a group of local winemakers who have been taking winemaking in the region in a bold new direction since officially joining forces in 2010. Callie is the only winemaker under this auspicious banner, making only one wine.
In an interview, Louw said, «One night, at a trade show in London, I was standing next to Marc Kent, one of the shareholders of Boekenhoutskloof – we were tasting wine and talking about the industry. Two years later, he called me and told me they had bought this place and wanted to cultivate 40 ha of vineyards.»
He bought the first acreage in 2009, intending to get 40 hectares of Shiraz. In 2013, a farm's neighbours offered him a piece of land, adding 25 hectares to the area. A year later, another neighbour sold them another 25 hectares. The expansion was not coming long; two years later, they bought the farm on Riebeeksrivier road.
What started with 40 hectares of vines has now grown to 130 hectares, with most of the acreage still being Shiraz, with a small amount of Grenache and Cinsault. There is also an old block of Steen (Chenin Blanc) at the Farm Goldmine in Riebeeksrivier. Most of the grapes are taken to one of the two large vineyards: Helderberg or Boekenhoutskloof, where they are processed into the Boekenhoutskloof Syrah or the Chocolate Block.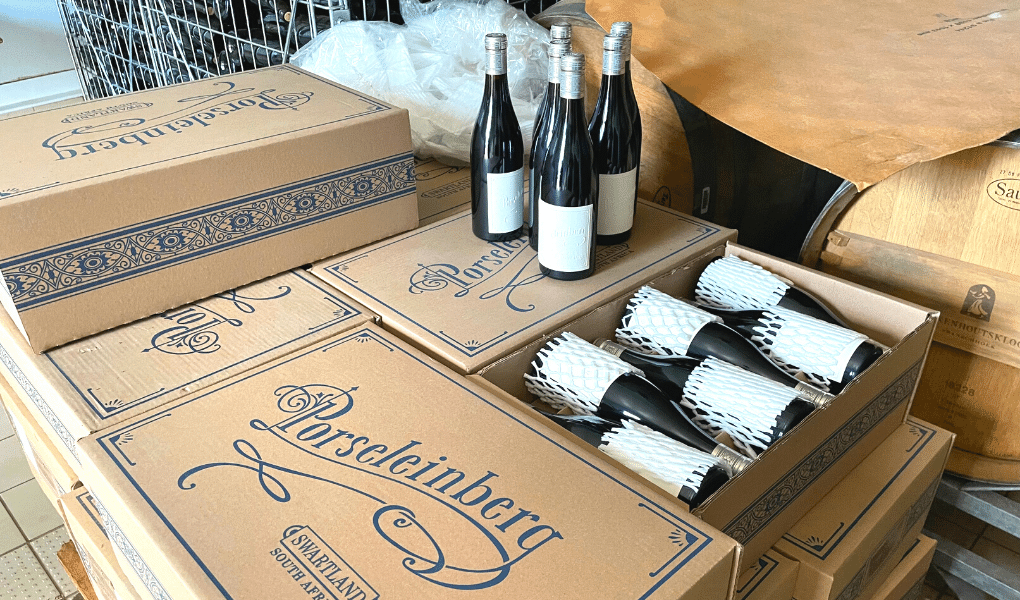 Business Trip Januar 2022 Links: Lager Porseleinberg. Foto: KapWeine
A difficult country for an excellent wine
According to Louw, the wine's unforgettable character is largely because the vines are grown in almost inhospitable conditions on soils that would make most farmers cry in their two-tone khaki sakdoeke.
«The soil here is exclusively blue shale. The entire mountain range in our area is slate – it starts here on our farm and ends in Riebeek West. The Kasteelberg is also slate; it's just more weathered. What we have here is more of a mispah, with horizontally aligned, hard, fissured sediments with no distinct vertical channels of soil material. People don't like it very much. It's tough, and I don't have topsoil. This place is hard. It's hard as nails,» he says.
Video: Swartland Wine and Olive Route vom 29.12.2019
The coveted Shiraz grape from Porseleinberg
The vineyards of Boekenhoutskloof had a small plot of Shiraz grapes that went into the first batch of Porseleinberg in 2010. It was not just any Shiraz but grapes that attracted the attention of some serious winemakers. Adi and Callie worked with some of them in Stellenbosch in 2000. Eben Sadie had also bought some for his Columella, but after buying the land, they became exclusive to Boekenhoutskloof.
«We harvest the grapes when they taste good, throw the whole bunches into the tanks, and start stomping them with our feet. It's very old-fashioned and traditional. There is not a lot of pumping over and things like that. We farm as hard as we can for 11 months, harvest the grapes and then let the wine do its own thing,» says Callie.
The small Shiraz grapes are tiny, and the juice concentration is enormous. «There's no reason to mess around with it,» he explains. «I didn't want to fiddle with it because I want the nature of each vintage to be reflected in the wine. That's why we treat it the same every year. We just try to get the grapes into a wine shape. They go in as whole grapes and are then stored in big oak barrels. We make about 20 000 bottles a year, and they are quite sought after».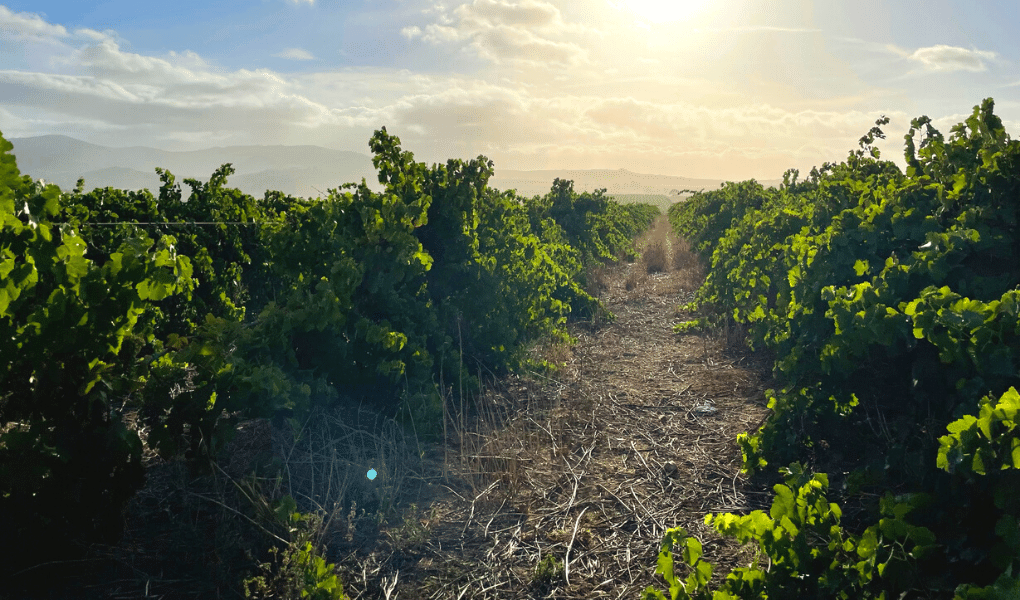 What lies behind the label
One of the most striking features of the Porseleinberg Syrah is its unusual label. The team took inspiration from the term "porcelain mountain", which stands for a beautiful fragility, while the motifs on the neck, as well as the blue colour on the back label, are a reference to the Delph tiles that play an essential role in many Cape Dutch homes.
Each label is created by hand on an original Heidelberg Model T platen press, the smallest motorised press ever made by this iconic company. The press manufacturing method was a stroke of genius – it has the smallest carbon footprint of any printing method, so it's as environmentally friendly as possible while still producing a high-quality finish.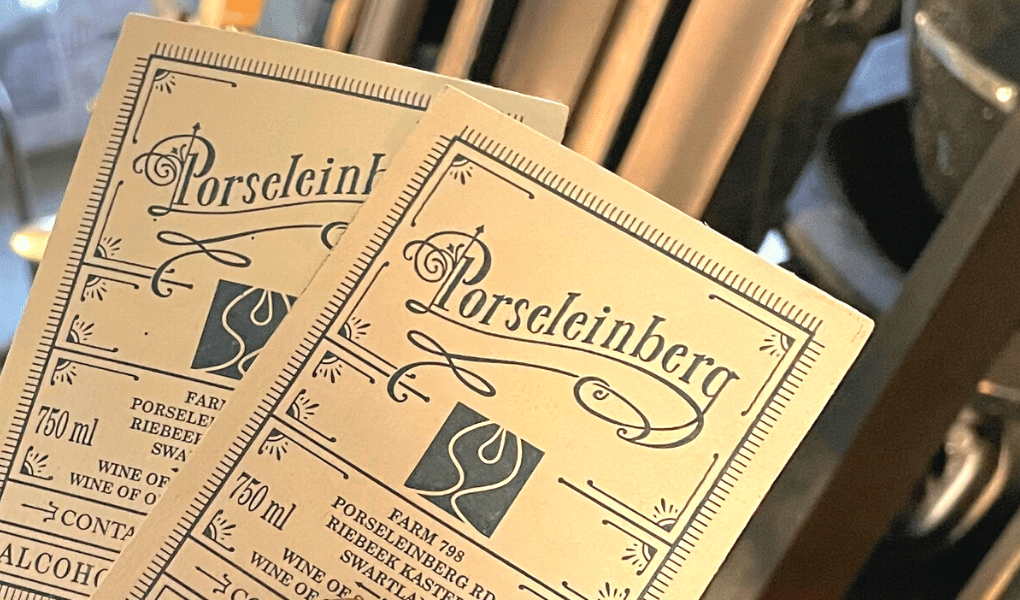 CapeWine logo on Porseleinberg labels produced on the Heidelberg press. Swartland, South Africa. Photo: KapWeine
Porseleinberg
Boekenhoutskloof – 2020
All prices in CHF incl. VAT. Daily price as of 08.09.2022.
Offers are valid while stocks last. Errors and price changes are subject to change.